October 2023

Valuing White-tailed Deer on Stewart Island/Rakiura
2023 Hunter Survey Highlight Results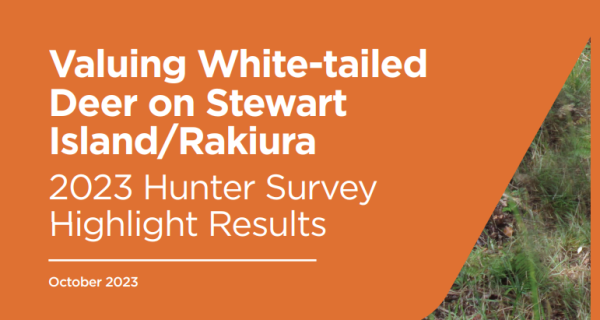 Introduced in 1905, the Stewart Island/Rakiura white-tailed deer herd attracts thousands of hunters and visitors to the island every year as it provides a unique hunting challenge and wilderness experience in a remote environment. Around the perimeter of the island there are 49 designated hunting blocks administered by the Department of Conservation (DOC)
and the Rakiura Māori Lands Trust that are balloted annually. An open area hunting permit covers most of the interior of the island. The Rakiura Hunter Camp Trust currently owns and maintains 18 huts for hunters under concession with DOC.
Anecdotal hunter and local resident observations of white-tailed deer population abundance in areas where hunting is permitted versus areas it is not suggest that hunting on the island is important for population management. Hunting is also recognised as important for food gathering, recreation and as an economic resource for the local community.
Read the survey results here.