Membership with the NZDA comes with a number of benefits:
Membership App with discounts at major retailers.
Regular newsletters, advice and information directly to your inbox, both at your local Branch level and on nationally significant level. We inform our members about events and changes in the laws affecting hunting and shooting. We will also be the first to tell our members about current lobbying issues.
Exclusive NZDA discounts:

Interisland Ferry group booking discount (contact us for the code)
Go Native outdoor meals and snacks, 25% discount
SWAZI Pro Deal, sign-up with your valid NZDA membership
Napier of London shooting and hunting goods, 15% discount
AJ Productions - electronic game caller and trail cameras, 10% discount
Kilwell Sports hunting supplies, 15% discounts on website orders
Hunting with Huntahr Guiding, 10% discount
Heli Sika, 10% discount on helicopter flights to hunting blocks
Murchison Heli Tours, 10% off your flights
NZ Taxidermy Ltd, 10% discount on mounts
10% discount of Department of Conservation annual Backcountry Hut Pass or 'Hut Pass'. See the DoC website for more details
Bush Life NZ, 20% discount on web orders
10% discount at all good sporting, shooting and hunter retailers on request

Public Liability Insurance when hunting and undertaking NZDA activities
Quarterly Member Magazine: NZ Hunting & Wildlife - Spring, Summer, Autumn and Winter
Branch club nights and guest speakers
Conference and events
Access to rifle ranges
Networks of facilities, accommodation and huts
HUNTS training program – training courses & certification for HUNTS Instructors
Head measuring – access to Douglas score measurers
The Official NZDA App
With discounts at major retailers.
Exclusive NZDA Member Discounts
Go Native outdoor meals and snacks, 25% discount
Hunting with Huntahr Guiding, 10% discount
Kilwell Sports hunting supplies, 15% discounts on website orders
Murchison Heli Tours, 10% off your flights
NZ Taxidermy Ltd, 10% discount on mounts
Bush Life NZ, 20% discount on web orders
AJ Productions - electronic game caller and trail cameras, 10% discount
Napier of London shooting and hunting goods, 15% discount
Interisland Ferry group booking discount (contact us for the code)
Heli Sika, 10% discount on helicopter flights to hunting blocks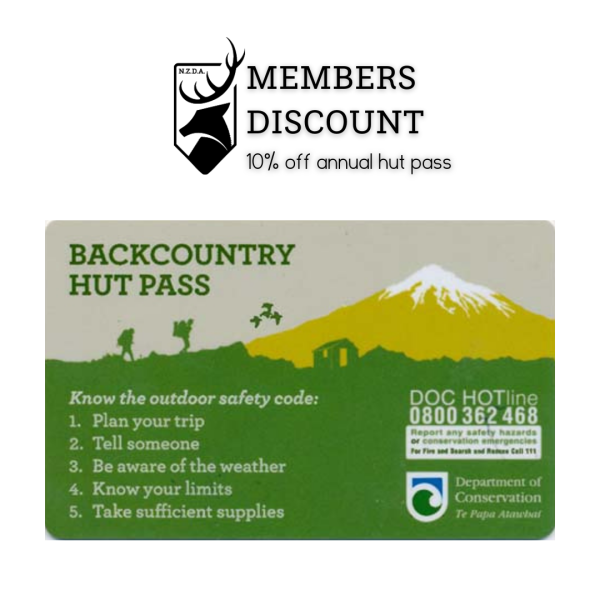 10% discount of Department of Conservation annual Backcountry Hut Pass or 'Hut Pass'. See the DoC website for more details