19 March 2023

Hunting and Wildlife Magazine - Winter Issue 221
Words By: Selwyn Smith - Otago Branch
I've been involved in many organized Canada Goose culls over the last 20 years – from driven/walk up shoots at nesting time, targeting them at the moult, right through to decoying and calling them in under a camouflaged layout blind. They are smart birds with phenomenal eyesight and a bucket load of cunning. They demand a lot of respect as New Zealand's premier game bird. I am also aware of the destructive power of these large birds if numbers are left unchecked. For readers unfamiliar with the game bird season, ducks and geese in particular have proven to be highly destructive to farming crops. The game bird season is an opportunity for hunters to keep numbers in check and to reduce the significant economic impact of crop damage to our valuable agricultural economy.
1097 Greylag geese were shot over the long weekend. An incredible result from the 25 odd shooters. Photo credit: Patrick Turner
Fish & Game have been instrumental in assisting younger hunters to learn some of the specialist skills needed to hunt geese. Setting out decoys into the wind and in the right pattern to suit the terrain, mastering a goose call and the importance of studying goose behaviour before setting up your camo blind are all skills that need guidance when starting out.
Despite some hunting pressure, goose numbers erupted over the last 20 years, destroying high country pasture and crops. Federated farmers successfully lobbied to get Canada Geese removed from 'game bird 'status, relegating them to a pest. Fish & Game lost interest in furthering the skillset of goose hunting after this event which further encouraged mass poisoning and helicopter culls to keep numbers down.
GREYLAG, OR DOMESTIC/FERAL GEESE
Less well known are the destructive issues that domestic geese also create around various pockets of the country. The Greylag or 'feral' goose as they are known are highly territorial, and do not 'migrate' like their Canadian cousins. The Greylag can cause significantly greater destruction than the wily Canada by virtue of their localised territory. We had Greylag geese on our family farm in the 1970's. A few stragglers mysteriously arrived one day and parked themselves in the corner of the farm boundary. Within a few years there were a couple of hundred geese. They lived predominantly in one paddock and defecated across 20 odd acres of pasture. Sheep refused to graze anywhere near where these geese had defecated. Greylag geese will have between 4-6 eggs each and can live well beyond 15 years. Assuming a 50% progeny survival rate, readers can easily calculate how quickly half a dozen geese can explode into thousands in only a few years if not controlled. Geese eggs make great Pavlova, and the young birds are excellent eating. I fondly recall testing my archery skills on these birds as a very young teenager. I proudly brought them home for Sunday roasts - I quickly learnt that the dry, tough chewy geese I'd carefully prepared were not the young birds needed for the roasting dish. They key? Red beaks indicated an old bird. Younger birds had orange beaks and my mother reminded me that these were the only birds to bring home!
NZDA UPPER CLUTHA BRANCH GOOSE CULL INVITE
Late January 2023 saw an invitation from the Upper Clutha NZDA Branch to participate in an organized Greylag cull over Waitangi weekend. I indicated my interest via the branch online form and joined another 25 hunters on a zoom call to prep for the weekend. Cory and Murray from the Upper Clutha Branch set the scene and talked about the previously organized cull in February 2022. Suitable gear was discussed as was blaze (compulsory) and ammo requirements. Cory suggested a slab (250 rounds) would be a reasonable amount. The first cull in Feb 2022 saw 9 shooters take a whopping 380 birds – impressive. A second slab would not go amiss with those numbers!
FRIDAY NIGHT PRE-BRIEF
Patrick and Cory had wisely signposted the camping spot to ensure we could all find the designated paddock. Situated on the banks of the upper end of the Taieri River in the heart of the Maniototo, we had plenty of space to spread out. I arrived just prior to the 7pm pre-brief to see 'tent city'- an impressive array of luxury tents and caravans spread out across our spot by the NZDA attendees.
Introductions saw members from Southland Branch, South Otago, Otago, Queenstown, Southern Lakes, North Otago, and even hard-core wing shooters from North Canterbury Branch – quite some commitment. Cory from the Upper Clutha Branch had done a pile of work over the proceeding weeks coordinating farm owners to ensure we could maximise our opportunities over the most goose-infected properties.
Maps were distributed and safety guidelines reinforced. Groups were split into four and strategies finalised for the day ahead. A group of the neighbouring property owners turned up shortly thereafter to swap notes with our team and to reinforce the importance of the work we were doing. Pete reminded me that the wider farming collective responsible for the land we were hunting over had shot an incredible 13,800 geese out of a chopper over the last two years. With the 380 geese shot by NZDA volunteers the previous year, it should be apparent to all readers that the Greylag geese were near plague proportions. At $6 a goose for the chopper time, the cockies all agreed it was money very well spent. Four geese eat the equivalent of one stock unit – that's 3,500 ewes or 500 dairy cows' equivalent geese removed to date! The average dairy cow is worth about $2,000 so readers will quickly understand the huge economic cost of not thinning goose numbers. The four properties we were hunting on covered 8-odd km in a straight line – there was clearly a very high goose to hectare ratio. I suggested to Pete that 14,000 odd geese shot would see numbers well thinned out. Pete assured me this was not the case. "Take a look at that swampy land alongside the river that we have retired as conservation land. It's the right thing to do, but we've ended up with a goose breeding ground". The grass was a good 5 feet+ high in places – virtually impossible to walk through for any length of time, let alone try and eradicate the feral geese strewn throughout.
DAY 1
Saturday morning saw us up at 6am sharp. Breakfast scoffed, coffee downed, and gear chucked in Paddy's truck, – our group was off to the upper end of our allocated farm boundary. Our target area was only 1km of river front on the map – the river had very few straight patches and as we were to discover, thick long grass and plenty of tight willow laden areas for geese to sneak amongst. We split into two groups. Bill and I quickly discovered geese parked in the long grass – we virtually had to trip over the birds to flush them. This accounted for some fast action shooting but meant we were in for a very tough morning trying to find the groups of geese in the thick cover. We swapped notes with Paddy and Greg on the radios – they were able to put us on to mobs of unseen geese from their viewing point. Very quickly the behaviour of the geese changed. Still highly sensitive to gunshots after the recent helicopter cull, mobs would spook at any movement and rather than swing up and down the river like last year's cull, geese poured out into big, open exposed paddocks where stalking was impossible. We crossed the river a few times and I quickly cursed my neoprene gumboots. Crossing a swampy patch saw both boots full of water…. should have worn my hunting boots! I had decided to bring my Winchester SX2 3 1/2inch gas gun packed with a custom tight choke – I was expecting some very fast pass shooting up and down the river. The tight choke had been a game changer under the layout blind on the Canada's, tipping geese out of the sky well beyond 50m. This terrain meant that a very tight choke would hinder most shooting opportunities…should have packed the modified choke tube!
The noise from downriver suggested other groups were having much greater success. We pulled the pin at 11am and headed back to camp to swap notes. By this time the mercury was really picking up. Lunch saw temperatures climbing into the mid 30's – most shooters took a dip in the swimming hole next to camp on their return to beat the heat. 200+ geese had been shot for the morning, which was incredibly encouraging given the challenges our group had. 5pm and with temperatures still stinking hot, we ventured back out. Cory swapped our group locale with another, and we headed downriver. Easing the truck down towards the swampy pastures exposed hordes of geese – excitement grew as we hatched a plan to make up for the stiff morning effort. Spreading out 20 odd metres apart, we gradually walked around the twisted river – picking up numerous small mobs along the way.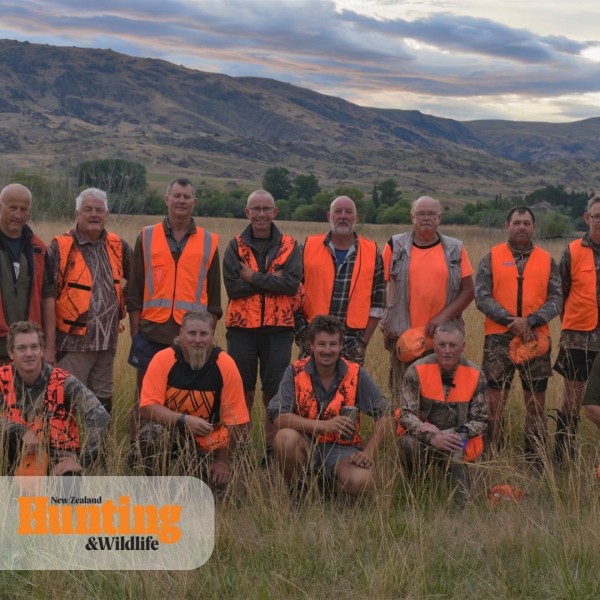 The 2023 NZDA Goose cull included members from Southland Branch, South Otago, Otago, Queenstown, Southern Lakes, North Otago, and even hard-core wing shooters from North Canterbury Branch. Photo credit: Patrick Turner
We rounded a bend to see a large mob on the riverbank. I motioned Greg over for us to stalk in. Paddy was on the other side of the river, planning his own stalk – and then we were spotted! We managed to get into a few around the bend before they scarpered – it was clear they were very flighty. Working back past the vehicle we located a mob of 100+ birds. Bill and I charged around to the end of the willows to cut off any flight path while Greg and Paddy stalked in. The mob was gradually shifting into the long grass. A few shots rang out, then suddenly 20 odd birds were flying straight at us! Fast trigger action saw magazines emptied, spent cartridges flying, birds tumbling, and ammo hurriedly jammed in magazines to try and catch the stragglers. 40-gram loads of #2 shot were outstanding for this fast and furious pass shooting. We had another three action packed sessions in the next 10 minutes as Greg and Paddy kept at the tail of the group. Many of those birds never flushed so we doubled back to do another walk-up, mopping up even more before the light started to fade.
Most hunters were using either Benelli or Vursan shotguns – these are inertia (recoil) operated, phenomenally reliable and needing minimal maintenance. They are, however, tough on the shoulder after a whole day of firing full-house loads. My shoulder was pretty good after a big day on the end of the gas operated Winchester – it was clear that most of the group had tender shoulders from all the complaining about bruises that night as we swapped notes.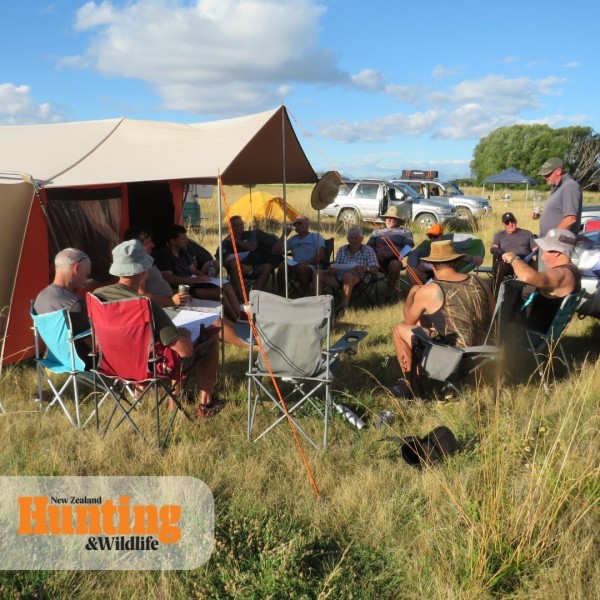 A shoot like this requires a lot of planning and contact with farm owners to maximize the use of resources. A Friday evening pre-brief and safety run down ensured the weekend ran without a hitch.
DAY 2
The alarm cranked at 5.50am with the same routine as the previous morning. Breakfast downed, gear stacked in the truck and new instructions relayed from Cory for everyone to meet north of the main bridge. This was new territory for everyone, so anticipation was building for another action-packed day.
We traversed the top of the hill parallel to the river along the 4wd track. Mobs of 60-100 geese were dotted throughout the valley on the flats next to the willows and snaking waterway. The geese were noticeably nervous. We parked up in our first designated area overlooking a big mob. They cackled uneasily and started shifting about. The lead goose suddenly launched, honking incessantly and the whole mob lifted – on edge from yesterday's neighbouring hunters and, no doubt, the recent chopper action.
Teams were spread 500-600 metres apart with everyone instructed to cover their respective ground, then regroup down river. We surveyed the area and swapped notes on strategy. The team to our right were on a different wave and were 150m ahead of us when we started walking toward the willows. They let rip before we were anywhere near the geese, we could see slipping onto the thick willow cover. We spread out. Bill and I hit a swamp – I went right with Bill taking the left flank. The swamp drifted through the thick willows and Bill was suddenly out of sight. Shots exploded from Bill's direction as geese suddenly erupted on the bank in front of me. The SX2 magazine was emptied in short order and reloaded just in time for me to catch geese screaming down the waterway. In a split second, they passed as I hurriedly tried to get a bead ahead of the two lead birds. Geese flopped into the water as the remaining birds barreled toward Paddy and Greg. "Coming your way!!" I yelled. Yep, came the response, as more shots rang out in response.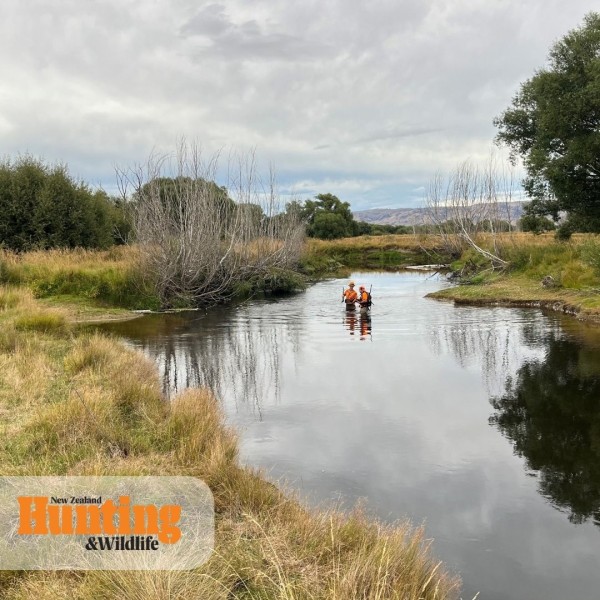 River areas had very few straight patches and as we were to discover, thick long grass and plenty of tight willow laden areas for geese to sneak amongst made for some action packed shooting. Photo credit: Patrick Turner
INTO THE THICK STUFF
A heap of geese had crossed the river and were hunkered in the very long grass 200-300m away on the other side. Paddy and Greg jumped in and waded over as I parked up on an S-bend overlooking three angles. Greg and Paddy both got some fast-paced action and managed to push a few geese back to Bill and I. Back at the vehicle we travelled down-track to the last group of trucks. Shotguns at the ready, we were back into it and soon into the thick willow cover. Rounding the bend and after a few shouts from Paddy doing his best to give me a heads-up on geese activity, a big mob of 50 odd geese slipped into the river about 80m in front of me. Darn – about 20m too far way to let rip through the tight branches. I raced around the bend to try and catch up – they had slipped across the waterway and dived into the thick cover. I tried to follow their tracks – pointless as the geese prints were literally everywhere.
We all slipped across the water and spread out. We found ourselves beyond the willows with geese honking in the neighboring paddock. We planned to circle around the birds. Clambering the fence, the grass was suddenly 5, then 6 feet high. I could barely see Greg's hat and had no idea where Paddy was. Greg slipped his blaze cap onto the end of his Benelli barrel and launched it above his shoulders for Paddy and I to gauge positions. Ridiculous. The grass was a nightmare to walk through, and we quickly threw the towel in on this group.
Back into the willows, Paddy suddenly spied the big mob! We raced through the twisted trees to try and catch up. The geese, heads down, were flat out in their haste to escape. Greg took off along the fence line as I barreled toward the bank that they were dropping into. Paddy had cut the main mob off and was suddenly sending hot lead down range. I managed a couple of rounds on departing birds. A dozen or so had snuck down the fence line, right into Greg's lap! He couldn't reload fast enough as he cleaned most of them up. Paddy had some more fast action and tipped over a couple of stragglers before it was all over.
Midday saw my feet blistering from a fair amount of walking in wet, sticky, neoprene gumboots – they won't be packed for next year's cull! Another lesson was to wear electronic earmuffs so each member of the party could relay instructions and directions of incoming birds. I'd worn ear plugs and grade 5 muffs. Outstanding ear protection against muzzle blast but hopeless to hear vocal instructions. Lesson three – take a couple of different chokes to match the type of shooting on offer.
FINAL RESULT
A massive 1097 Greylag Geese were shot over the long weekend. An incredible result from the 25 odd shooters over the three days. Every contributing member needs to be congratulated for volunteering their precious time for a tremendous weekend of action-packed pest control.
There will still be a few thousand geese left in that catchment – more than enough to ensure we will need a lot more hunters next year to get on top of these geese after another year of breeding. With options to have shooters safely positioned on both sides of the river, we could easily accommodate 50+ hunters next year. I suggest every South Island member starts dusting off their clay target skills in anticipation!
See you all next season.