Love Tahr? Want to Help as NZDA's Next Advocate?
25 February 2023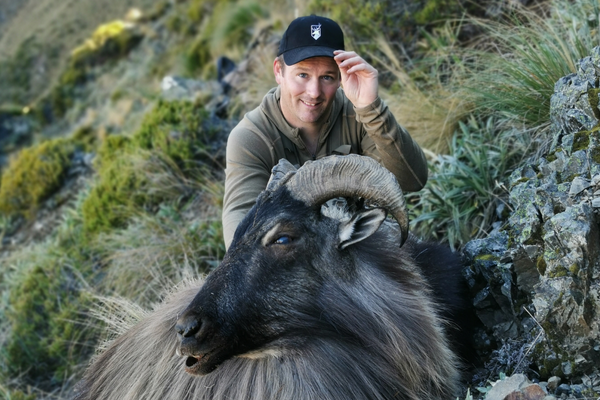 NZDA CEO, Gwyn Thurlow, with a trophy bull tahr. Gwyn says: "Advocating for recreational tahr hunters and our trophy herd has been one of the most rewarding advocacy jobs I do. You get to meet all the key influencers on the national stage".
Attention all tahr lovers and hunter led management enthusiasts!
We are seeking expressions of interest from our members to help to advocate for tahr and recreational tahr hunting. By joining our team as the National NZDA Tahr Rep, you can make a tangible impact on the preservation of these magnificent Kings of the Alps.
Why? Our current Tahr Rep, Dave Keen (South Canterbury branch), is now the president of the Tahr Foundation and so with him taking on more work there's a spot to work with both Dave Keen and Gwyn, NZDA's CEO.
Our committee is dedicated to researching and implementing effective strategies to protect recreational tahr hunters' rights and interests.
By working together, we can lobby for recreational hunters' interests, collaborate with scientists and conservationists to develop new conservation techniques, and raise awareness about the importance of preserving biodiversity and the value of the tahr herd.
But we need your help to make this happen. As a member of our committee, you will have the opportunity to contribute your unique skills and knowledge to this important cause. You will be part of a team that is making a real difference in the Southern Alps, and you will have the satisfaction of knowing that your efforts are helping to ensure that future generations can enjoy the beauty and wonder of these incredible animals.
So please, don't hesitate to join us. Contact us today to learn more about our committee and how you can get involved. Together, we can make a difference.
Photographed: David Keen, Snow Hewetson and Gwyn Thurlow on the job for NZDA. NZDA works with other stakeholders like the SCI NZ Chapter and Game Animal Council. Tahr experts like Marcus and Kaylyn Pinney are heavily involved in tahr advocacy.
Commitment of the NZDA Tahr Rep:
Working with Gwyn Thurlow, NZDA CEO and Legal Counsel on submissions and input on DOC's annual control plan.

Sitting on the NZ Tahr Foundation as the NZDA representative.

Attending meetings with DOC in Christchurch about 2-4 times per year.

Attending Tahr Foundation meetings via Zoom, as issues arrise.

Attending the Tahr Foundation's AGM.

Assisting NZDA with all comms tahr related.

Advocating for tahr and recreational tahr hunting.

Ideally live around the Christchurch area to make travel times reasonable.
To best fill this role you should have a willingness to learn and able deal with all types of people, with a passion to make a difference.
A contemporary knowledge of the issues is key alongside a current understanding of the tahr herd.

Skills and Tools:
Laptop and mobile phone

Able to use social media platforms

Comfortable writing, researching and willing to learn.

Able to influence and

convey

concerns and ideas.
You will be a volunteer and entitled to all cost reimbursements while doing your role.
Point of Contact:
Gwyn Thurlow- CEO
Wellington Branch
E. nationaloffice@deerstalkers.org.nz
David Keen and Gwyn Thurlow