28 August 2023

Hunting and Wildlife Magazine - Winter Issue 221
Words By: Ian Owen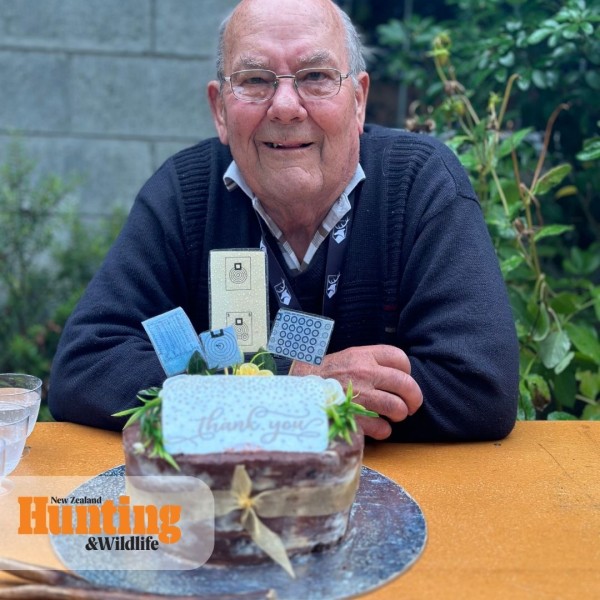 For 27 years, Graeme Smith has been the force behind the New Zealand Benchrest scene.
Graeme Smith emailed me earlier this year and indicated that after 27 years he was going to pass the reins to others to organise International and National Benchrest matches, he would also cease being the National scorer for any International or National
His reason was that the sport was too reliant on him and given his age he thought because there were a number of people involved now was the time to pass the reins to others, this year's NZDA Benchrest Nationals was when he would cease doing everything he does.
This did come as a bit of a shock as Graeme has been there since I started competing in Benchrest matches, but I have known this day would come.
I started thinking about what Graeme did, the list was quite long, from asking who was coming to each match, organising the details (who shot when and who was sharing equipment etc.) printing labels for targets, sticking them on the targets, organising the targets required, organising the range, scoring the targets, entering the data in the computer along with many other tasks that are required to organise and run a successful competition.
I, along with others had a few months to put a plan in place so the Benchrest matches would continue to be held and run in a successful manner into the future. I had less time to talk to competitors about an acknowledgement of what he has done and to show our appreciation. Through talking to the competitors, it became apparent that not everyone was aware of Graeme's contribution to shooting and the sport of Benchrest in New Zealand, and how his contribution and hard work has enabled us, as competitors, to participate in the sport of Benchrest.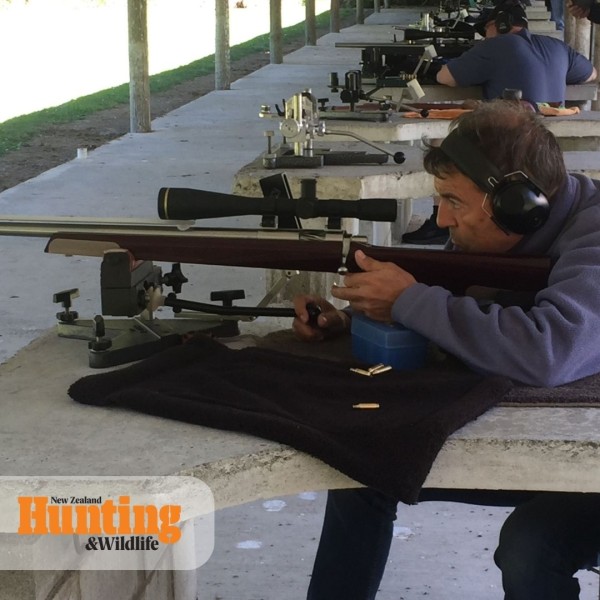 Graeme was a driving force behind the efforts to turn the Nelson branches range into a world class range. Located in the Maitai Valley, the facility has 25 covered bench rests.
What has Graeme done?
I learnt that Graeme was first introduced to Benchrest Shooting in Australia in 1973 while working at an iron ore mine in NW Australia and decided it would be a good idea to build a local range instead of having to travel 1600km to Perth to participate in benchrest matches. With that thought in mind he approached mine management and requested an area near the mine be used for the range and the use of mine machinery be used to help build the range. Eventually a clubhouse was built.
Of course, this came to an end when he and his family moved back to Nelson, New Zealand in 1977. On his first weekend back, he had to go and check out the local range in the Maitai Valley near Nelson and since then has spent countless hours at the range and travelled numerous kms between Richmond and the range. He has been a member of Nelson Branch NZDA since his return.
In the late 80's and early 90's Graeme was chairman of the New Zealand Shooting Federation and has been involved with the 1988 and 1992 Olympic Games and three Commonwealth Games as shooting team leader in 1990, 1994 and 2006. Prior to this Graeme had taken shooting teams overseas to various countries, Seoul, Italy, Germany, and Russia with most if not all of this being self-funded.
Graeme in the past was also a member of the NZDA National Executive and fought many battles to have target shooting accepted as a bona fide part of NZDA, this battle seems to be endless. Graeme's contribution to the shooting sports has been recognised in the past as he is a life member of New Zealand Shooting Federation and NZDA.
Benchrest has been Graeme's passion for a very long time, he heard about a World Benchrest Championship (WBC) being held at the Harry Madden Range near Brisbane, Australia in 1995 and organised a NZDA team to travel to Australia to participate. In 1997 he organised a NZDA team to travel to Pheonix USA to participate in the 4th World Benchrest Championship and put in a bid to have the WBC held on the NZDA Maitai Valley range, this was successful and meant there was a huge amount of work to be done to make that event a success.
Many Benchrest competitors made a financial contribution and we presented Graeme with an engraved Crystal trophy.
He and others fought local battles and managed to get benches built on the NZDA Maitai range which enabled organised official NZDA Benchrest Matches to commence in 1996.
With the WBC scheduled to be held in Nelson in 2001, Graeme, along with the support of his family, Don Harris, Stan Read and others from the Nelson Branch proceeded to turn the undulating range that sloped down to the Maitai Valley stream into the range that is there today. It took many branch discussions, many thousand cubic metres of fill and many man hours to create that World Class range with 20 benches, which grew to 25 benches in 2016.
Prior to the 2001 WBC, Graeme organised a trip to the Harry Madden Benchrest competition in Australia to give a number of our competitors some "International" experience, this was a real eye opener for me and was a fantastic trip, the first of many, with most organised by Graeme.
The 2001 WBC was a fantastic success, despite the weather, and the Nelson range is now known the World over in Benchrest circles as a beautiful range set in some beautiful scenery with some very challenging conditions to shoot in.
At the WBC in Nelson, the country delegates held a meeting and formalised the World Benchrest Shooting Federation (WBSF) where Graeme was elected as the inaugural President, a position he held for 16 years. He is currently the treasurer. New Zealand has held the World Benchrest Championship twice, first in 2001 and secondly in 2017, this is a huge undertaking and both times Graeme was the instigator and organiser of these very successful events.
Graeme wrote both the local Benchrest Rules and the WBSF International Rules, a guidance manual on running a WBC event and before he stood down as the WBSF President he introduced and had Rimfire Benchrest adopted as a world event. Due to Graeme's promotion of both centrefire and rimfire Benchrest a National 3 Gun trophy was created in his name and awarded to the top placed competitor in LV, HV and Rimfire Benchrest at the NZDA Benchrest Nationals.
Before the introduction of Rimfire Benchrest as an International event, Graeme through his membership with the Richmond Smallbore club developed Benchrest shooting at the club so those that could no longer participate in prone shooting could continue to participate in the sport they love using benches. With the changes in shooting and the "Clubs and Ranges" regulations coming into effect Graeme has been writing new constitutions and by-laws for local shooting clubs so they comply with the Incorporated Societies Act. Graeme has recently been appointed as Patron of the Richmond Smallbore club.
Graeme has not only given to shooting but also other sports, he had involvement in basketball in the 80's, both as a player and a National Referee, but due to the conflict with shooting and Benchrest at weekends he gave up basketball. His grandkids took up Kart Racing and Graeme became chief mechanic. He has been committed to Kartsport Nelson for 16 years and was treasurer of the club for a few years and is currently the official race starter on race days. Due to his contribution to Kartsport Nelson Graeme has been awarded Life Membership of the club.
For the final National Benchrest Competition that Graeme organised, the 2023 NZDA Benchrest Nationals, there was also an invitational international match run concurrently with a dozen international competitors participating. To me Graeme is the father of Benchrest shooting in New Zealand and has earned a lot of respect and appreciation from competitors over the years. Many competitors made a financial contribution, and we presented Graeme with an engraved Crystal trophy and some vouchers at the completion of the HV event recently. Carina also baked Graeme a cake.
Graeme will continue to assist during the transition and also running local Benchrest matches, but now without the workload of organising and running National and International matches he can sit back and enjoy what he has created. Graeme has contributed so much that I'm sure I've forgotten to mention several things he has done, so I will say it wasn't intentional and sorry.
Graeme's huge commitment, contribution and forethought have enabled not only NZDA members but others to compete in the sport of shooting and helping them to realise their dreams and hopes.
From all of us, ''Thanks Graeme.''