Kiwell Kids Hunting
28 August 2023

Hunting and Wildlife Magazine - Winter Issue 221
Words By: Tessa, Emma, And Jonty
Tessa, Jonty and Emma back at the carpark after a magnificent weekend of hunting with Dad.
Take a Kid Hunting program
The Take a Kid Hunting program that Gore and Districts branch has been running for a number of years and is about introducing young people to hunting in a safe and controlled way to bring about a positive experience for them. A number of kids have not come from a hunting background, and by introducing them to hunting in this manner it is hoped to create future generations that have a positive view of hunting, safe firearms handling and conservation. This year, 36 kids participated along with 25 branch volunteers supervising them.
Jonty took this big 8-pointer with a clean shot at 180m.
On Friday the 3rd of February 2023, gun, ammo, packs, food packed and side by side loaded, we started our journey at 5pm to drive to Glenaray Station to go hunting for 3 nights. We arrived at the carpark and met everyone there, packed all the gear onto the motorbikes and side by sides, and headed into our allocated area. Our block was Upper Dome. After an hour and a half drive into Dome Hut we unpacked the gear and put a tent up, we didn't really want to sleep with our rodent friends!
We organised where we were going to hunt in the morning with the other people in the hut with us. We then went to bed and had a sleep to prepare ourselves for the big day ahead of us. We woke up at 5am to gear up and start the big walk up the top of the hills. We walked over the wee saddle from the hut and spotted a stag, a spiker and 4 hinds. We snuck in on them to close the gap to make the shot easier for Jonty. We found a nice flat area on a knob which ended up being a 180m shot. "BANG!" Jonty shot and drilled it through the front shoulder, it ran down the hill about 20-30m and fell over into the creek.
We walked down the hill to the stag, and after a bit of a struggle we managed to pull him out of the creek, then boned out the meat and cut the head off. We left the meat and head under some nice shady bushes until we came back down the hill. We carried on up the hill till we got three quarters of the way up and spotted a couple of chamois, so we decided to go after them. We got about 30m away, but they must have heard or smelt us before Emma lined it up and ran away.
We carried on across the hill where Emma spotted a big mob of deer on the other side of the gully we were in. Then Dad spotted a chamois closer than the mob of deer. The chamois was a 178m shot and Emma lined it up. 'Bang!' the chamois dropped. We walked up to it and got some photos then cut the head and the back steaks off. We carried on up the hill a wee bit to the top and stopped and had lunch where we all had Back Country meals and chilled out for a bit because we had a fair old trek back to the hut.
Then we carried on, this time down the hill to pick Jonty's head and meat up, then kept walking back to the hut to meet with the others. We chilled out at the hut for a couple of hours before preparing tea. We had sausages, meat patties and chamois back steaks which were delicious but a bit chewy. After dinner, we decided to go on a wee evening hunt and walked around the corner from the hut and Jonty spotted a chamois. Tessa lined up the gun and 'Bang!' The chamois dropped. We went down to deal with it and get some photos then casually made our way back to the hut and talked for a while before heading off to bed because we had another huge day ahead tomorrow.
The next morning, we got up at 6:30am and had breakfast, packed our day bags and headed off once again. We walked halfway way up the hill we had walked yesterday, and Dad picked up a wee boar 200m away. Tessa wanted to shoot a pig so lined it up and shot it. We walked over and dealt with it, got more photos and carried on. Then we walked back down the hill, and a stag was sitting in a wee gully, Emma decided to shoot it and got it. It had an ugly head, but it had a bit of length; it was a 5 pointer. We cut the head and meat off and carried it back to the hut.
Again, we just chilled out for the afternoon then went for an afternoon/evening hunt with Hayden, George and Jack to see if we could help get them on the board. We saw a few stags, but the wind stymied us sadly. It was still a nice walk and just seeing the animals was pretty cool as well. We went back to the hut and had tea. This time we had more meat patties and some steak which was very tasty. We decided to have an early night. We were all tired from all the walking we had done.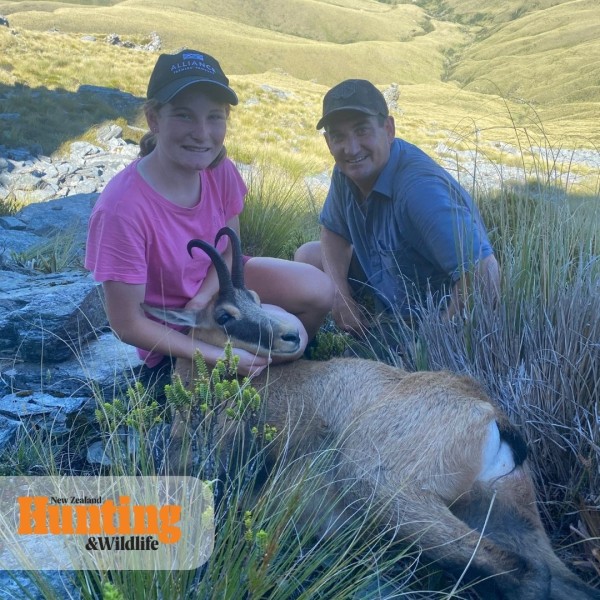 Emma and Dad (Craig) with Emma's chamois taken at 178m.
The next morning, we packed up the side by side and cruised on out from the Upper Dome, back to the carpark to see what all the other kids got. We then went for a BBQ lunch and got
a group photo and all the kids got a survival blanket which will come in handy in the kit. We would like to say a huge thank you to the Gore Deerstalkers, especially Glenn and
Hamish for organising such a wicked weekend. We would also like to thank Glenaray Station for the use of the block and facilities, and lastly, we would also like to thank our Dad (Craig) for taking us on this awesome experience, you made it so much fun and we are very grateful we could do this whole experience with you.