EARLY MARCH IS A GREAT TIME OF YEAR TO CHASE RED STAGS BEFORE THE ROAR GETS INTO FULL SWING.
17 November 2021

Story from NZ Hunting and Wildlife Issue #205
Words by Simon Gibson
What a great feeling to finally be underway as the ferry leaves Wellington and another hunting South Island adventure starts. After a four hour drive I arrived at Berridale station where I met my hunting companion for the week, Jonesy. Gear was transferred to his truck and we were off on the two hour drive to the chopper hanger. We'd had a call from the pilot saying not to waste any time getting there as a big Nor 'wester was coming in. After a very bumpy flight we were soon heading downhill to a beautiful little basin, which was to be home for the next week, or so we thought. The location meant a 20 minute climb each morning but in this sort of country camping on the open tops leaves you very exposed to strong winds.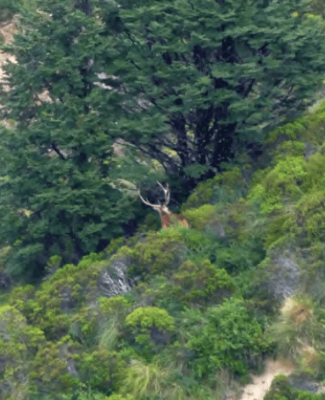 It was early evening by the time we hit the top ridge with the Nor 'wester roaring. We headed for a big basin in the lee of the ridge and then dropped down a spur, which gave us a good view of the terrain without our scent flowing into the basin. It wasn't long before I spotted a big antler poking out of the scrub; we had our first stag of the trip in view. He certainly had very good length and spread with long tines but no matter how much I tried I could only count nine points so he was left. I took some photos but was loathe to try and get closer and scent the basin out in the process. Two more stags were spotted in a gut behind him but they were much smaller.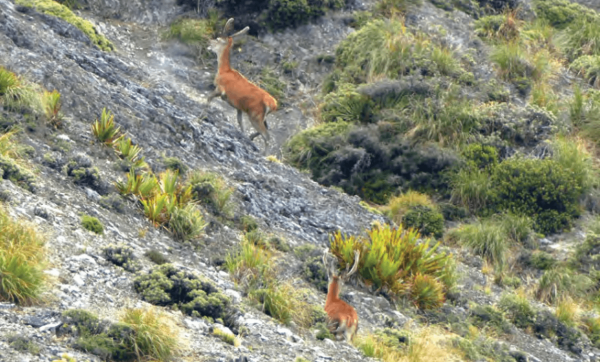 The next day, the remnants of a tropical cyclone were going to hit the area with severe gale force winds forecast. We left camp at first light, hoping to get a bit of hunting in before it struck. The wind was blowing gravel off slips along with big clouds of dust, which made the going decidedly unpleasant at times. It was still early when we hunkered down in the lee of a bank and started glassing. A few hinds were quickly spotted but no stags were present. The wind was really starting to scream so the call was made to return to camp and make sure it was secure.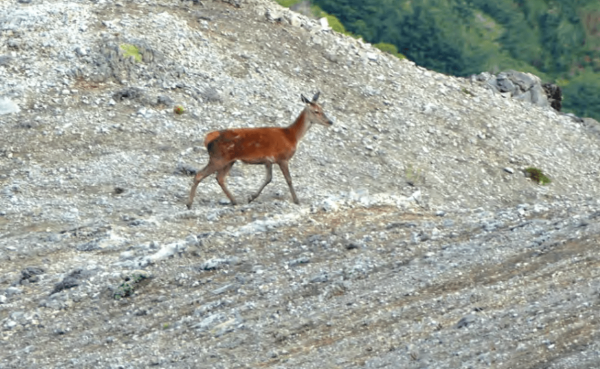 As we dropped off the tops i was somewhat puzzled as to why my tent was no longer visible. Arriving at camp there was no sign of it. After a bit of scouting around I found it 50 metres away in a creek complete with my spare clothes, sleeping bag and other bits of gear, all absolutely drenched. The wind strength was now unbelievable with gravel and small tree branches showering us. As we discussed moving camp a gust flattened Jonesy's tent, smashing the poles. There was nothing for it but to move down the creek as fast as possible where camp was set up on a nice terrace completely sheltered from the wind. We were camp bound until the fury of the storm subsided and I used this time to try and dry my gear out. My down sleeping bag was a sodden mess and remained so for the rest of the trip, which meant some very uncomfortable and cold nights.
Out hunting again, the light was starting to fade as my binoculars swept the face one last time before we headed for camp. The hinds and young stags were still out feeding but as my eyes travelled up the edge of a beech tongue out stepped by far the best stag I'd seen on the trip. He was certainly a taker with three points on each top. We didn't have much light left so there was some urgency to find a good shooting position. The range was 400 metres but the wind was screaming up the gully, making bullet wind drift calculation impossible and bad shot placement a certainty. There was only one choice, we would return the following day and see if he we could catch him out again.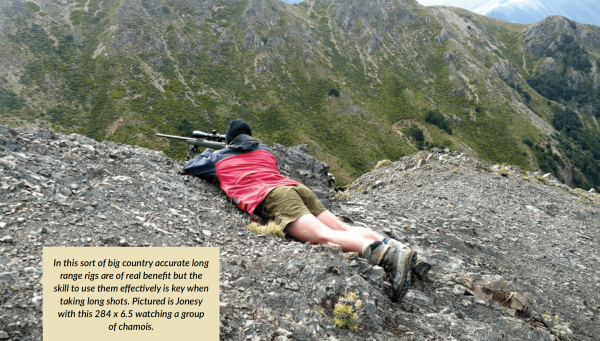 A southerly change accompanied by rain the following morning meant a late start. As we climbed the ridge behind camp the afternoon had a really good feel to it with virtually no wind and the freshness that follows rain after a long dry spell. The deer would be out feeding early and this proved correct as we sidled around the face opposite where we had seen the big stag the night before. He was already out feeding and slowly moving between fingers of beech. I needed to close the range fast so slid down through the tussock until I came to the edge of a large slip. A rocky knob halfway down the slip would give a range of 380 metres. Slowly heading down in full view of the stag I finally made the knob and wasted little time setting up. A carefully placed shot and he was mine. Evening was upon us so we decided to drop into the creek below and head back to camp that way instead of trying to get around the tops in the dark. As usual nothing is ever easy and numerous waterfalls and deep pools had to be negotiated in the blackness. Camp was certainly a welcome sight that night.
An early morning start saw us heading off on what was to be a huge day with a number of deer sighted. A six pointer feeding on the bush edge was the first to be seen but he was not what we were after so we carried on until the ridge we were on dropped sharply down into the river below. Climbing up the other side there was plenty of deer sign evident in the soft dirt of a little gut. Suddenly two stags burst out from behind scrub and headed up hill, interestingly they were both still in velvet. Gear flew out of my day pack as I grabbed my camera and went in hot pursuit. I managed to get several shots of them with clouds of steam coming out of their mouths as they legged it for safety. As we continued climbing the ridge I saw a hind, yearling and fawn as they travelled up a gully. I ambushed them with the camera as they headed through a rocky pass way above the bush line.
As evening closed in and we trekked back to our distant camp Jonesy spotted a big fallow buck moving through scrub below us. At first glance he certainly had a big set of paddles. There was only one thing to do and that was to crash off the ridge we were on and close the distance to get a better look but alas we were a month to early. While his paddles looked magnificent with lots of points coming off them he was clearly still in soft velvet so we left him to grow. A long slow climb back to the ridge top and then we were homeward bound, each lost in our thoughts as the sun disappeared behind the alps.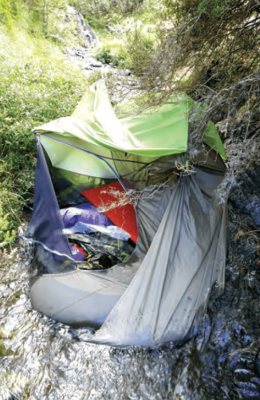 Another fine day dawned but the wind had really picked up as we made the ridge above camp at first light with a huge day planned. We were going to head north along the range to a big basin, which has produced several big heads over recent years. With me having taken a head it was now Jonesy's shot no matter what. Later in the morning we had cell phone coverage so checked in with our pilot who stated in no uncertain terms that with another storm coming in if he didn't pick us up at mid-day then it would be much later in the week. It was a very disappointing way to end the trip with the valley of big heads just over the next ridge but the only sensible option was head down to camp and get back to the ridge top as fast as possible. All the extra gear we took due to flying in now had to be taken up to the ridge top in one trip which proved to be an epic haul. The rests were soon becoming very frequent for me. No sooner had I dropped my gear than the sound of the chopper was heard. It was now so windy that gravel was flying and when the machine landed the pilot stayed in it with power on as we quickly loaded our gear and took off for a very uncomfortable trip out.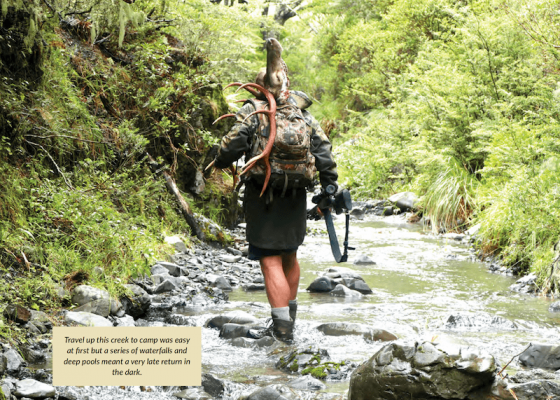 So ended another awesome trip into the spectacular South Island high country.

Members Only: Stories and articles
Any submitted content that is published wins vouchers - Hunting & Fishing, Countdown groceries, or Fuel vouchers.
To find out more and to write a story, follow this link.
Contact: