Hunters Are Conservationists.

2 February 2022
Around 2008 Department of Conservation advised Southern Lakes branch that the DOC mid Greenstone hut was going to be removed, the branch jumped into action and sought to take over administration of it to be used as a hunter's hut. A deal was put forward and excepted.
The possibility of putting out their own stoat/rat trapping line was also discussed. This would run between Greenstone flats to the head of Steele creek. They saw the opportunity for their branch to help save the local birds, specifically the Blue Duck in the Steele Creek area and the local population of Kea.
Trap Management/Maintenance
Fast forward to 2009, Southern Lakes purchased 70x DOC150 traps and made our own single box traps up. They had a local helicopter company fly the boxes into site specific locations that made positioning the traps 'slightly' easier and with the help of branch members we proceed to put them in place.
All the traps were set over 14kms at about 200m spacings and GPS'd. Every 3 months since 2009, the traps are checked, cleared, and reset where needed.
Moving ahead to 2021, members of the branch have been refurbishing the older single traps and 25 of the older traps have been refurbished and redeployed back into the field. All new stainless-steel front and back grates, replacing the wire mesh and 'Kea proofing' them. Southern Lakes branch have also purchased another 25 DOC150 double set traps and are in the process of getting these in the field.
Conservation of Local Birds
The branch is also monitoring birds in specific sites to determine numbers. All data/information is recorded and logged through Trap NZ. This will support future funding in bird monitoring, expert advice and increase potential for funding of more traps in different areas.
To date, an estimated 101 rats, 84 stoats, 13 mice, 6 hedgehogs, 1 ferret, and 42 possums have been trapped. Additionally, several members also manage their own possum traplines in the area, so well over several hundred more possums would have been eliminated from the area.
Already, birdlife around the Southern Lakes Hut has noticeably increased.
The Cost
The work Southern Lakes has undertaken continues to manage and remove predator pests on volunteer hours, at no cost to DOC. The branch spent around 5k on the initial trapline. Adding costs of helicopter flights and other incidentals, an excess of 15k has been spent by Southern Lakes over the years. The hundreds of hours of volunteer work from NZDA members are priceless.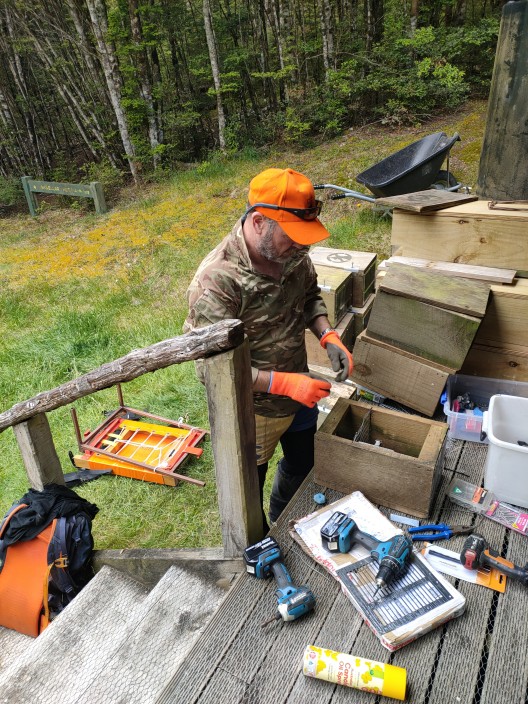 Find and join a branch to get involved with promoting and protecting hunting in New Zealand! Search here.
https://www.deerstalkers.org.nz/join-and-support-us/branch-finder/