Continue To Support NZDA Advocate On Your Behalf
18 February 2023
NZDA members, a big thank you for being part of the team that makes our voice strong and allows us to advocate for hunters and shooters in New Zealand. This year our renewal prizes are better than ever.
How to enter

Simply renew your NZDA membership before March the 31st and you'll automatically go into the draw.
Prizes
Be in to win either a pair of ZEISS Terra ED 10x42 or ZEISS Terra ED 8x42 Binoculars or own very own NZDA X Svord limited edition knife.
We have more prizes to giveaway including 4 ZEISS binocular cleaning kits, and our own NZDA merch including 25 blaze hats and 25 NZDA x Victorinox knives.
That's over $4000 worth of prizes to be won!
Terms and Conditions
NZDA Membership Renewal Promotion Terms & Conditions
This promotion is open to existing NZDA members who renew their membership for 2023/2024 only. This means the competition is not open to newly joining members paying their first invoice, or lapsed members who have re-applied.
Further terms are:
Only Senior, Junior, Student and Superannuant membership types qualify for this promotion (including Endowment and Branch Life member types). Non-voting / non full membership types do not qualify, i.e. Family members, Affiliate memberships and Associate memberships.
Non-centralised branch members also qualify, if the National Office team receive information in time for the draw.
If you are a Branch Life Member, it is your branch's responsibility to ensure that your membership is paid for before the 31st of March 2023. Please contact your branch to ensure your membership has been paid for accordingly.
One entry per membership paid.
The competition ends at 11:59PM Friday 31st of March 2023. Your membership subscription payment must be paid in clear funds by 11:59PM on Friday 31st of March 2023.
NZDA has the right to cancel or alter this promotion at any time.
The prize will be drawn by the NZDA CEO and the winner will be announced in the April Monthly National Newsletter.
About the Prizes:
ZEISS Terra ED Binoculars | For rough conditions
We are giving away a pair of Zeiss Terra ED 10x42 RRP $1099 and a pair of Zeiss Terra ED 8x42 RRP $999 Binoculars.
ZEISS Terra® ED binoculars are lightweight, reliable and easy to use. Their state-of-the-art and sleek design makes them comfortably compact. They incorporate famous SCHOTT ED glass, with multi-coated lenses that guarantee brilliant images down to the very last detail - and are protected with hydrophic lens coating. The Terra ED binoculars are waterproof and nitrogen-filled, making them rough and ready. Terra ED binoculars are constructed with a fiberglass frame. They serve as the perfect entry into the world of ZEISS.
A bright image, outstanding resolution of details and comfortable viewing characteristics. In combination with optimum ease of handling, these perfectly describe the outstanding properties of the Terra ED
Compact, light and robust
With its its waterproof casing reinforced with glass fibers, the ZEISS TERRA ED satisfies the high standards of nature lovers. The construction is compact, light and robust. Light-weight, easy to fit into any bag and nearly indestructible, the TERRA ED is the perfect companion.
Excellent, sharp images
Thanks to maximum optical precision and a hydrophobic multi-coating, the ZEISS TERRA ED meets all demands for versatile use. This state-of-the-art coating ensures that the ZEISS TERRA ED will impress you, even under difficult conditions like adverse weather and challenging conditions. These binoculars guarantee outstanding images with the most minute details and 100% natural colors.
4x ZEISS Cleaning Kits

Product Features
- Complete Kit for Cleaning Optics
- Non-Abrasive Microfiber Cloth
- Wet and Dry Cleaning Options
- Travel case included

This Lens Cleaning Kit from ZEISS is a complete solution for cleaning valuable optics such as camera lenses, eyeglasses, telescopes, or spotting scopes.

Both wet and dry cleaning tools are provided. The air blaster can be used to blow the dust off an optical surface, while the retractable lipstick-style cleaning brush can dislodge more stubborn dirt or dust particles.
The Very Last NZDA x SVORD Limited Edition Knife
View the sold out knife online here.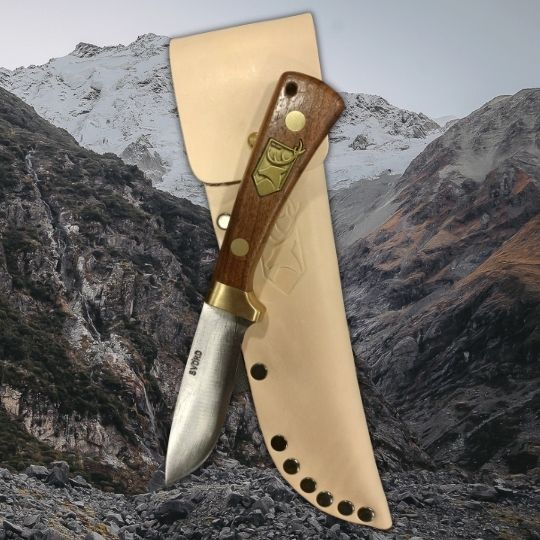 Quality New Zealand made product - designed by hunters for hunters.
Spec Sheet:
Model: 310BB
Length of Blade: 4"
Over All Length: 8 7/8"
Blade Shape: Drop Point
Handle Material: Walnut with NZDA solid brass logo
Steel Specs: 15N20
Sheath: Natural Leather with embossed NZDA logo
Read more from Svord here.

More Prizes
25x NZDA x Victorinox Pocket Knives up for grabs
Back to the basics with the Bantam. This slim pocket knife is all about getting the job done with a large blade, a combination tool and 8 essential functions (including a screwdriver and wire stripper). Available in black with gold & white NZDA logo, the Bantam is the perfect companion for all your everyday adventures. And thanks to its combination tool, it can help you fix everything, literally.
View the knives here.
NZDA Branded Blaze Cap
High-quality NZDA branded baseball caps. Made with 100% heavy-duty cotton.
View the caps here.