A refresher on our NZDA Hunter National Training scheme
2 November
Hunting and Wildlife Magazine - Issue 216 Autumn
Words By: Erin Hewetson

I'm sure many of you will have heard all the buzz and excitement around expanding our HUNTS programme with support from a DOC Jobs for Nature Grant. Our hunter training has been run by a network of highly experienced and knowledgeable volunteers since 1987. In this time the courses have introduced hundreds of new people to our sport and we are excited to support the volunteers in growing courses nationwide.
I wanted to take this opportunity to re-introduce our HUNTS course and provide some answers to frequently asked questions!
What is "HUNTS"?
HUNTS is the NZDA's hunter training course that aims to impart the necessary skills for becoming a confident hunter. HUNTS is an acronym for "Hunter National Training Scheme".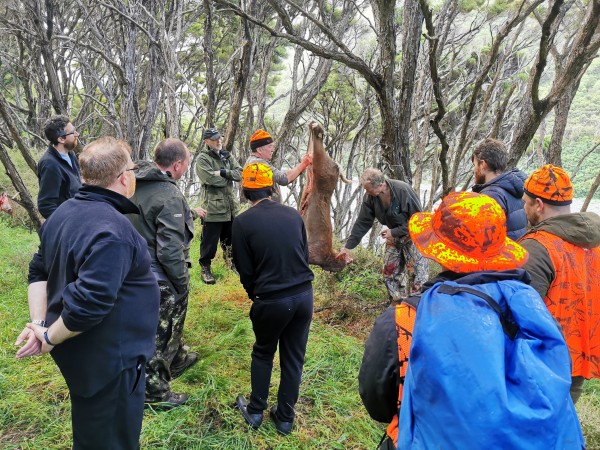 What will I learn?
The HUNTS course involves practical training in safely operating a firearm on a range as well as river crossing techniques, outdoor survival and bushcraft. This training all comes together in the final hunting weekend, which is a chance to experience an overnight trip and put these skills into practice.
The course consists of 16 hours of theory alongside this important practical training. Each participant receives a training manual which covers this theory in detail and the information is reinforced during classroom sessions as part of the course.
Theory topics include:
Ethics, ecology & regulations
Equipment & food
Travelling in the backcountry
Navigation
Firearms selection, safety & marksmanship
Game animal species of New Zealand
Hunting Techniques
Meat, skins, and trophies
Outdoor emergencies & survival
Are there any prerequisites to joining the course?
We only ask that you are willing to learn!
It is a requirement that you are a member of the NZDA before the course starts to ensure that you are covered under our Public Liability Insurance – other than this there are no prerequisites to enrol.
If you are 16 or under, we do ask that a parent or guardian joins you on the course.
How much does it cost?
Pricing differs depending on your location due to travel requirements and locations of the practical training.
Currently pricing ranges from $150 - $450, generally not including NZDA membership. To find out the exact cost in your area, contact your branch or check their website and social media.
What will I get out of it?
You'll receive invaluable knowledge and skills from our experienced instructors and a certificate of achievement on course completion. This experience will help you on your path to becoming a confident hunter and increase your chances of success.
We receive support from many hunting organisations and companies including Go Native and Stoney Creek.
Each participant receives:
HUNTS Training Manual
Stoney Creek Blaze vest and beanie
Go Native ready-to-eat meal sample
Access to store discounts through your NZDA membership
Access to discounted first aid training
HUNTS instructors are supported by Swazi and Ridgeline, providing our volunteers with professional jackets and clothing to wear during the course.
Where can I take the course?
Refer to the map for our active HUNTS branches
How do I get involved?
You can get involved with HUNTS as a trainee, a volunteer assistant or as an instructor depending on your level of experience.
Contact your local NZDA branch to find out if they have a course available and for more information. Alternatively, you can reach our national HUNTS coordinator through the email below.
We are always in need of willing volunteers so if you're someone who is ready to pass on your experience and knowledge in hunting – please get in touch.
National HUNTS Coordinator, Erin Hewetson
Erin.hewetson@deerstalkers.org.nz
"Thank you everybody involved! I would (and will) definitely recommend it, and I came out the other end well introduced to a great community and with excellent, safe knowledge behind me. – Wellington & Porirua HUNTS
"Thank you so much for a great experience. It was truly memorable. I cannot wait to get my first NZ animal in the bag! "– Wellington & Porirua HUNTS
"Incredibly knowledgeable and respectful leaders with a contagious enthusiasm for safe hunting. I'd do the course each year just for the great company! Loved it - really grateful, thank you!" – North Canterbury HUNTS
Write for Hunting and Wildlife

Join NZDA To Help Us Advocate on Your Behalf