An Experience Of A Lifetime.

30 November 2021
"Dad, when can I go hunting" – "I don't know Jack, when your 7"……. Sheeeeesh……. From the 4 year old to the 7 year old asking me every time I loaded up the truck it came around really fast!
The problem I was facing was that I was a SI in the North Island and had no access to private land. Even some of the easier land in the Kawekas would likely be a bridge too far. I had spoken to a lot of other guys that had been through the same thing. The warnings were strong and hold true – to put it simple "make sure the first hunt is a positive one – don't force the fact, take HEAPS of clothes to ensure they are dry and warm all the time and invest heavily in snacks – mostly the kind they love to eat".
I was in a predicament – I kept pushing it off as I also felt as thought it maybe more pain than what it would be worth and if it wasn't perfect would ruin it for ever…….. the months dragged on.
During a NI regional meeting held at the NZDA head office in Wellington I met father and son combo Stephen (North Taranaki NZDA) and Mark Heath (Wellington).
Stephen and Mark offered the chance to host myself and Jack long for a hunt alongside Bryce and Jess from Wellington.
I was thrilled. Not only for a chance to take Jack for his first hunt but also a hunt alongside great understanding and patient people who also gave Jack the experience of comradery in the hills.
It was well planned, and a fantastic experience, Jack loved it learned a lot, so did I. It was an experience I will never forget and was easily one of the best hunts I have ever been on. An experience I was not prepared for at all. I cannot wait until we can do it again.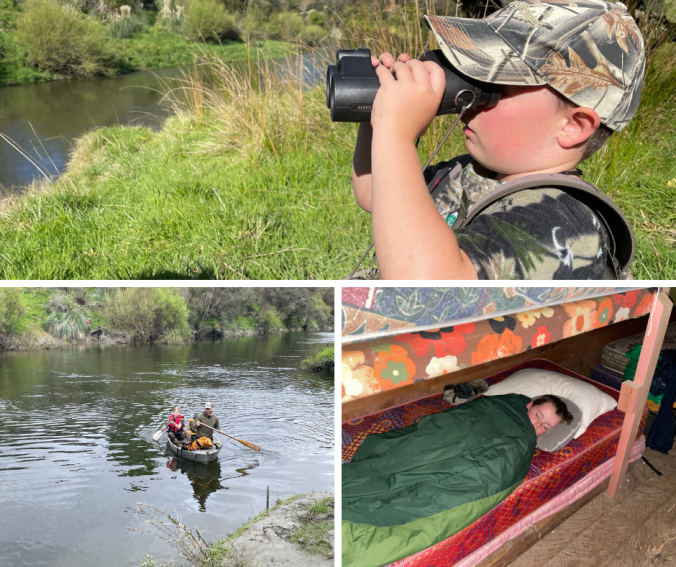 Only hiccup…………………… Jack spotted the animal, wont live that down!
Thanks a bunch Stephen and Heath!
It was the NZDA that provided me the opportunity and a special combo of hunters that made it EPIC! This has been a common theme during my time in the NZDA.
Get to you local branch meetings, get involved and meet like minded individuals that could feature in your own experience of a lifetime!