NELSON LAKES 10 ½" CHAMOIS BUCK
8 February

Hunting and Wildlife Magazine - Issue 218 Spring
Words By: Gwyn Thurlow
I was added to a chat group conversation at 10.40am on 5th August 2021 by hunting friend, Tim Watson, which included Josh Harding and Ricky Kernohan. The first post I saw was a map showing a large and remote area of Nelson Lakes National Park accompanied by a message from Tim saying, "Gwyn has the green light from the Missus. Good to have you on board, mate".
A few days earlier, I'd spoken to Tim when he'd casually mentioned to me his trip idea and it piqued my interest because I enjoy nothing more than a good adventure into unknown big tussock country. This trip was just that.
Tim, Rick and Josh were planning an early Spring hard-antler alpine tops expedition and they'd done some initial thinking that resulted in a heli drop off from Murchison Heli Tours and walk out. This was required because the National Park is a no landing area and so we needed to get dropped on its boundary and walk into, and then out of, the chosen stalking area.
I've gone on trips in the past with Tim and Ricky. On those trips we'd travelled together but split up for hunting. Josh was new to the group and also new to alpine hunting. Josh brought a lot of enthusiasm and questions. Our chat group was great value as we swapped ideas and planned our trip. No subject was too trivial, as we discussed knives, boot cleaning, who's ute is better and why (DMax, Colorado or Hilux), fitness, rifle weights, bullet selection, sighting-in rifles, and more.
Time finally came to embark on our adventure. It was 22nd September. There was a catch; the weather forecast was not ideal. A spring storm was forecast. A sou' wester followed by a deep and icy southerly front. Metservice and Metvuw both showed we were set to get heavy rain then snow. Opinions, second opinions, and phone a friend all came into play.
The next message read:
"Chopper confirmed. Weather window late morning. We can check in at 8.00am. There's no deep snow presently, as of yesterday anyway. Largely clear of snow".
Thumbs up emojis from the group was the response.
Excitement and trepidation levels were high. We'd planned every detail, including our route, waypoints and campsites. Tim had a goal in mind and wanted to cast his gaze into an epic alpine head basin. Things seemed to be falling into place. We'd pinpointed where the stags would be, we were sure.
Our ferry ride was uneventful, if not more uncomfortable because of a requirement to wear a face mask. A small discomfort and symbolic of the pandemic.
From Picton we drove to my family's farmhouse in Murchison. A welcome and usual stopping place on my hunting journeys south. We overnighted.
We awoke to fog and mist. It caused some anxiety. Would we be waiting? For hours? For days?
A hearty breakfast of bacon and eggs was washed down with cups of hot tea and coffee.
It's at this point when our plan frayed but had not yet unraveled. We just didn't know it yet. We'd brought crampons and ice-axes. Kit I'd always carry, but often wouldn't use. Dead weight. It was early spring, so you can encounter ice and hard snow.
Probably owing to the fact we were walking out over miles of country, we decided not to take them, and left them in the ute's tray. "It was spring, the snow will have melted", we each thought. At the heli pad, our pilot affirmed our decision saying, "I flew over it the other day and it looked clear of snow".
A weather window appeared.
Great hunting mates. L-R: Josh Harding, Tim Watson and Ricky Kernohan.
Four hunters, four heavy packs, four rifles, no crampons or ice axes, were soon airborne and heading deep into wilderness country – mountains, tussock, forest – adventure.
There's no better feeling than flying over kilometres of untracked country that would take days to navigate.
We soon saw the ridge which was the National Park's boundary. It appeared clear of ice and snow from our angle of approach.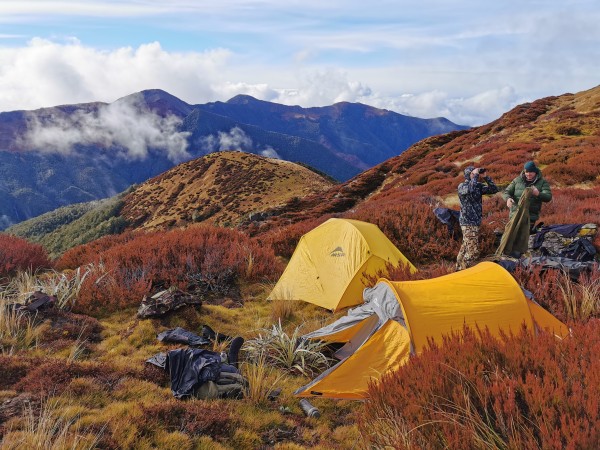 Camp wasn't where we had planned due to ice and snow but that's hunting.
We crested the summit, and our hearts sank. There was deep snow from the highest peak to the bushline.
The pilot's voice crackled over the PA system, "Sorry lads, where do you want to get dropped?".
"Somewhere else free of ice", was someone's response.
A yank on the helicopter's joystick and we made a big banking turn away from the no drop zone. The blades pulled hard at the thin alpine air and thumped loudly. The feeling in my gut summed things up – upside down.
"I think I can set you down on the bush edge by that tarn", said the pilot.
Thumbs up and shrugs was our response.
In that brief moment of flying and looking for a safe place to set down the helicopter, we'd flown miles away from our pre-planned route, waypoints and campsites.
We climbed out into the unknown. We quickly unloaded our gear, as clouds and mist shrouded us.
The last thing the pilot did was point a direction and yell over the whine of the engine, "You walk out that way". Looking to the direction he was pointing; I saw only endless bush clad mountains.
On bidding our pilot farewell and hearing the noise of the blades fade away, usual comments were said like, "I wonder if we're the first people here", and "I bet no one's been here in months or years".
Four hunters, four packs, four rifles, no plan, located on a cold mountain side next to an icy cold tarn.
"Better check our location on the GPS and mark a waypoint", said Tim. This time for real, and not a prospective one.
"There's some deer", someone said in a hushed yell. "Spikers", said someone else, "range, 450m".
At least there was game animals about. Our hopes lifted.
Now that we were oriented, but miles off track, our plan was to simply go hunting. We spent time glassing, looking and exploring. It was on an evening hunt with Ricky that I had one of my best Chamois stalks.
One evening, Tim and Josh had decided to glass the surrounds. Ricky and I decided to make the effort and climb to the ridge high above and look over some new country.
Up we trudged through tussock and scrub, then soft snow, then snowpack. Once we'd made the ridge top, we found a small shingle knob free of snow. We sat down and glassed.
Before us was a head basin on the cold side. It was a classic amphitheater shape. A series of small creeks met in the middle and their combined flow cut a steep creek through the basin and on into the mountain beech far below.
It was early evening, about 5.30pm. Not long until darkness would descend. It was drizzling and misty.
If you've even been in such a situation, you'll know the silence. It's like the snow absorbs all sounds.
After a time, I spotted an animal. It was 900 metres away. It was up high on the true left feeding in a small patch of tussock surrounded by rock faces free of snow. Free of snow because of the sheer steepness. Higher above the animal the icy ridge line looked impassable and treacherous.
I pointed out the animal to Ricky and mentioned the time and said, "worth a closer look". He agreed.
We set off in order to close the distance and get a better vantage point. It could be a stag or a Chamois.
At 600m we found another area free of snow. We glassed the animal. Still there. Still feeding. "A Chamois", we agreed.
"Alone. A buck, most likely".
Cloud and mist and darkness were all working against us.
"We needed to get to 300-400m", I said.
"Okay", replied Ricky.
The snow conditions were favorable and the terrain passable.
We eventually found a gut 340m distant from the Chamois and at about its elevation.
I turned to Ricky and said, "Okay, it's a good spot, are you comfortable shooting from here", to which Ricky replied nonchalantly, "Yes, but I don't have my rifle". I could not believe what I heard, asking, "Did you leave it at one of the glassing spots?" "No, it's back at my tent", said Ricky. "Want to use mine?", I offered. "No, you can shoot", was his firm reply.
At that point in time, we were certain it was a lone buck.
We got comfortable and observed the buck more closely. After a minute or two I could tell it was a shooter through my 10x binos. I then got my rifle set up, installing my bipod, and making the necessary dial-up adjustment on my Zeiss V6 scope. I use my scope as a spotter because it goes to 30x zoom and it was at that point when I realised, we had located and stalked an exceptional trophy class buck.
I was trying to keep calm, but I rolled onto my side and turned to Ricky with a grin and said, "I think he's good". Ricky thought so too.
The buck was facing head on to us, with a slight downhill orientation. A small target. It was feeding under a tussock at the palatable plants underneath. It would periodically lift its head and look up, then down valley. It had us pinned down.
I loaded a 7mm-08 round into the chamber and flicked on the safety. I was shooting my handloads. 139gn Hornady SSTs. I've had great success on deer, Tahr and Chamois using this set up.
By this time, mist and cloud were blowing around the basin, sometimes obscuring the buck. It was also starting to get gloomy because the sun had set.
I wanted to take a side on shot, but the buck would not move.
I waited. I waited more. I waited for what seemed an age.
I was starting to get nervous. I had in my crosshairs one of the best trophy buck Chamois I had ever seen. My arm muscles and trigger finger were starting to quiver under the stress and strain of maintaining a state of full readiness.
I released my rifle from my grip, dropped my head to the dirt, exhaled, and thought, "pull yourself together and relax".
I turned to Ricky and saw he was fixed firmly on the buck. I mentioned the shot wasn't great. Low percentage. He agreed.
While waiting a bit more. Ricky said, "you better shoot soon. Light's getting poor and, look over there, a rain band is less than a minute away".
"Okay. I'll take him", I agreed.
Magnificent Nelson Lakes hunting country which holds reds and Chamois. Camp is to the right of the tarn.
I waited for the buck to lift its head. The whole time we were watching, he never moved from his position.
I flicked off the rifle's safety, then squeezed the trigger. I hit him in the left-hand side of his lower neck, the bullet passed through his lower jaw on its way to penetrating his body, due to his downhill stance and the buck moving its head the same moment I shot.
On the shot the buck lurched forward and ran 15 metres across the face. He seemed to be hit hard because his left shoulder could not support any weight. He stopped under a small rock ledge.
I reloaded and fired a second shot. Same distance, 340 metres.
On the rifle's report, the buck rolled downhill, picking up speed. He slid down the tussock face and flew into the air. Such a sight is every trophy hunter's fear – will the horns be damaged, or worse, pulled off and be lost?
We watched as the buck plummeted in freefall.
"Whomph", he'd fallen into an avalanche shoot and landed hard. His momentum sent him rolling and sliding down the snow. Where would he stop?
The buck slid all the way down to a recoverable bench, finally coming to rest.
I was both relieved and ecstatic.
"Better try and recover him quickly", said Ricky, as he got to his feet and set off.
We had a few hundred metres to cover across knee deep snow in order to reach the buck. I started to cramp instantly. I'd been tensing for about 20 minutes waiting to shoot without realising. That has never happened to me before.
Ricky was striding out ahead and breaking a trail. I followed behind in his post-hole footsteps. He reached the buck first and rolled him over, turning to me saying, "no ground shrinkage, mate".
We took a few photos and admired the trophy hooks. I felt guilty that Ricky wasn't the proud hunter of the magnificent head because the shot was his to take, if he'd carried his rifle. Yet, I was pleased I was up to the challenge of pulling off the shot.
Presently it was getting gloomy. No time to head skin the buck.
We needed to get moving before the snow froze and became dangerous, so I decided to do what European alpine hunters do and carry the buck whole. I gutted the buck and stuffed him in my backpack with his neck and horns sticking out.
Ricky said he'd take the first carry and retraced our steps. I took over for the last third up to the ridge line and then all the way back down to camp. It got dark on the way and we needed to use our head torches. We found camp quite easily by following the croaking of frogs living in the tarn next to our campsite.
By the time we made it to camp, Tim and Josh were fed and warm in their sleeping bags. They'd had no luck locating stags or Chamois. Ricky and I crawled into bed too.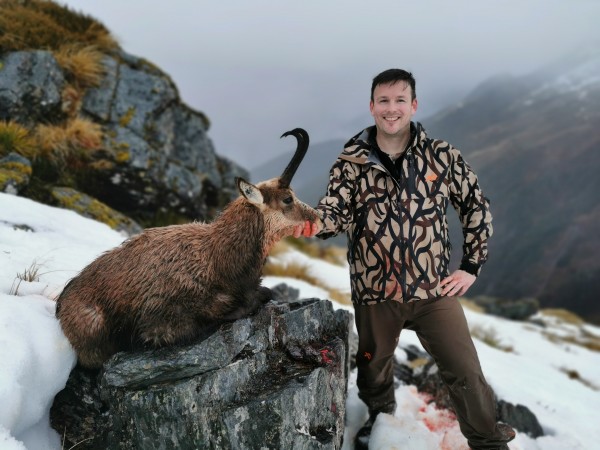 Measuring out at 10 ½ inches in length, this is the best Chamois I have taken to date.
The next morning, I was woken by Tim shaking my tent saying, "nice buck".
I finally had time to locate a measuring tape which stretched to 10 ½ inches even.
The guys broke camp and went hunting while I skinned out the buck for a full body mount.
I caught up with the others late morning, locating them over the ridge and in the next alpine basin. They had spotted some more deer, including a stag, but no Chamois. Nothing was a shooter.
Our next challenge was to make the long walk out, first across the frozen tops, then down the beech forest slopes and out a stunning Nelson Lakes valley. My pack was extra heavy due to the full body skin, horns and skull, but at least I wasn't lugging out crampons and an ice axe.
We'd come out of our alpine hunt a couple of days early so had time to stay at Red Deer Lodge on Lake Rotoiti. It's a historic building owned and managed by Nelson Branch and has all the rooms and amenities a hunting party needs, enhanced with atmosphere and trophy heads shot by legends of bygone eras like Newton McConochie, Charlie Shuttleworth and G. G. Atkinson to make your stay special.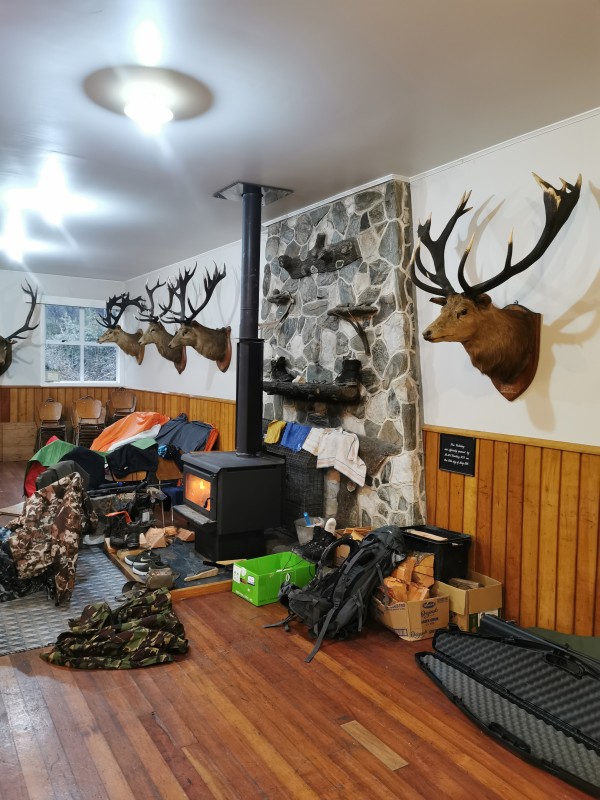 Four hunters. One epic unplanned adventure. One alpine adventure planned and still calling us back to hunt Nelson Lakes National Park.
Write for Hunting and Wildlife

Join NZDA To Help Us Advocate on Your Behalf