WINNER WAS DRAWN SATURDAY 22nd JULY 2023
3 June 2023
We're thrilled to announce that we have partnered with Missing in Aotearoa (@m.i.a_gear) to bring you an exciting raffle prize package. Brace yourself for a chance to win an incredible prize: a M.I.A Westlander III Tent with a whole lot more!
The M.I.A Westlander III canvas 3 person tent will come with:
M.I.A Gear - Stainless Steel V2 400 Wood Stove
M.I.A Gear Westlander III - Bathtub Floor
A combo valued at over $4000!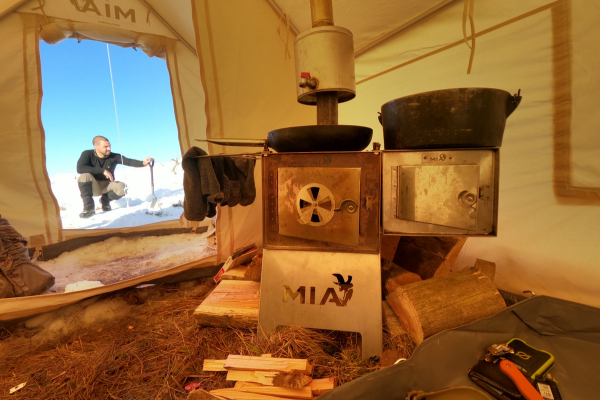 ALL TICKETS HAVE SOLD OUT
How to Enter:
Participating in the raffle is simple, follow the link to purchase raffle tickets. Remember, every ticket purchased brings you one step closer to winning this remarkable prize. Don't miss out on this opportunity to upgrade your camping gear and elevate your expedition experiences.
Ticket sales close 5:00pm Saturday 22nd July and the raffle will be draw on the evening of Saturday 22nd July at the 75th Annual NZDA Conference.
ALL TICKETS HAVE SOLD OUT
Unveiling the M.I.A Tent Package:
The M.I.A Westlander III Canvas Tent is a testament to exceptional craftsmanship and functionality. Designed to withstand the rugged New Zealand outdoors, this tent offers durability, ample space, and remarkable comfort. It's the perfect companion for your camping adventures, whether you're exploring the wilderness or enjoying a weekend getaway.
About The Tent:
The Westlander III is a 3 person, 8.75sqm heavy duty poly cotton canvas wall tent. Designed to be a strong base camp or cook room for those hunting or camping trips where weight isn't an issue. Ideal for Tahr ballot hunting blocks, Haast and Wanaka roar ballot blocks, Alpine sambar hunting, and various other hunting, jetboating, rafting and camping locations. The tent features
16 steel loop tie points
2.5m X 3.5m X 2.1m high (8.75sqm foot print)
Heavy duty 25mm aluminium frame
Bug proof 2 layer door
Reflective guy ropes
Optional timber pole pitching
3 x Windows with mesh for ventilation
Heavy duty plastic zippers for door
Heat proof stove jack with cover
PVC storm flap around the bottom edges for weather protection
Canvas carry bag
About the Stove:
The new V2 Stainless 400 is a collapsible stainless steel fire box specifically designed for the Westlander series of wall tents. It's a large heat packing stove with large cook area on top. Complete with a baffle for maximum efficiency this stove will heat any wall tent in minutes. Features
7kg packed weight
Large cook area
400mm x 250mm
Stainless steel
Flue kit
Adjustable legs
Suitable for fly in, 4x4 or jet boat access
Replaceable insulated firebox floor
Carry bag
About the water heater:
New M.I.A 3L Stainless steel water tank. Detachable from the stove and flue this high quality water jacket is seam welded, has a ball valve tap, removable lid, open top for easy re fills. Never not have hot water on demand. Utilizes your normally lost flue heat and wood for maximum efficiency.
About the floor:
The removable 2.5m X 2.5m bathtub floor is specifically designed as a three quarter heavy duty PVC floor for all Westlander III tents.
The floor has multiple peg points within the wall of the floor which provides a 70mm approx. PVC wall incorporated into the one piece floor system which results in a highly robust floor area within the tent.
The front quarter of the tent is left open or floor less to provide room for the free standing fire.
ALL TICKETS HAVE SOLD OUT
No Membership Required:
We believe that everyone should have a chance to win this extraordinary prize. That's why we've made it accessible to all, regardless of membership status. Whether you're a seasoned member of our organization or someone who shares our passion for hunting and the great outdoors, you can participate in this raffle and stand a chance to win the M.I.A Tent.
Join Us at the Conference:
Beyond the raffle excitement, our 2023 conference promises an unforgettable experience for hunting enthusiasts. The event will feature educational sessions, networking opportunities, and the chance to connect with like-minded individuals who share your passion for hunting and conservation.
Join us as we celebrate our shared love for hunting, conservation, and the great outdoors. Stay tuned for more exciting updates and be sure to secure your raffle tickets. Let's make the 2023 conference a memorable event together!