Spring NZDA Membership Sign Up Promotion
31st August 2022
NZDA and MTNGear have teamed up to giveaway Backcountry Bipods to a lucky new member!
How to qualify
Purchase your NZDA membership between now and end of November.
Memberships are 50% off mid-year!
Apply to become a deerstalker here. Use the branch finder tool here.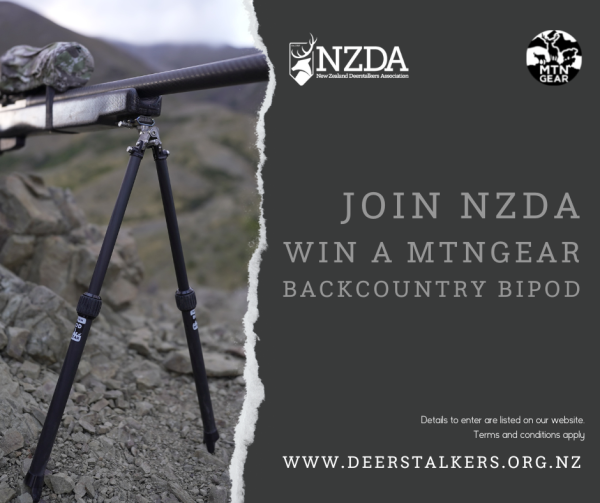 The Bipod
25 degree cant each way and up to 360 degree pan.
Carbon fibre legs which are adjustable from the top of the legs.
Quick attachment and detachment using secure universal picatinny rail system that will work with future MTNGear products.
Legs adjust forwards for stowing away and increased high adjustment.
Height adjustment from 18cm (7.5") to 31cm (12").
119 grams (4.2oz). (We believe this to be the lightest fully functional bipod in the world)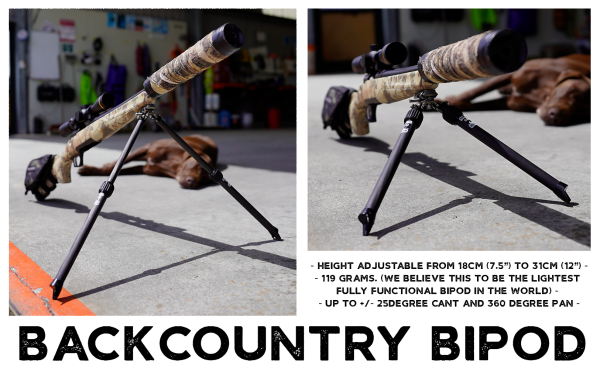 Terms and Conditions
NZDA New Member Promotion Terms & Conditions
This promotion is open to new NZDA members who purchase their membership for 2022/2023 only.
Further terms are:
Only Senior, Junior, Student and Superannuant membership types qualify for this promotion (including Endowment and Branch Life member types). Non-voting / non full membership types do not qualify, i.e. Family members, Affiliate memberships and Associate memberships.
Non-centralised branch members also qualify, if the National Office team receive information in time for the draw.
One entry per membership paid.
The competition ends at 11:59PM 30th November 2022. Your membership subscription payment must be paid in clear funds by 11:59PM on 30th November 2022.
NZDA has the right to cancel or alter this promotion at any time.
The prize will be drawn by the NZDA CEO and the winner will be announced in the December Monthly National Newsletter.
Check Out MTNGear
A big thank you to the team at MTNGear for such a great prize. To view the full range gear on offer, head to their website http://www.mtngear.nz/