UPPER CLUTHA HUNTS
20 December 2022
Glen Dene Hunt by Careen Kemp
Careen Kemp wrote all about her experience on the 2022 Upper Clutha HUNTS Course in their Branch Newsletter In Hindsight:
Friday afternoon/evening I arrive to Glen Dene Station, prepared and tentatively excited about the upcoming hunt.
I am to hunt alongside fellow course participant Veronica with Scott and Nova Gillam as our guides/mentors. The block we will hunt is the Ewe Block.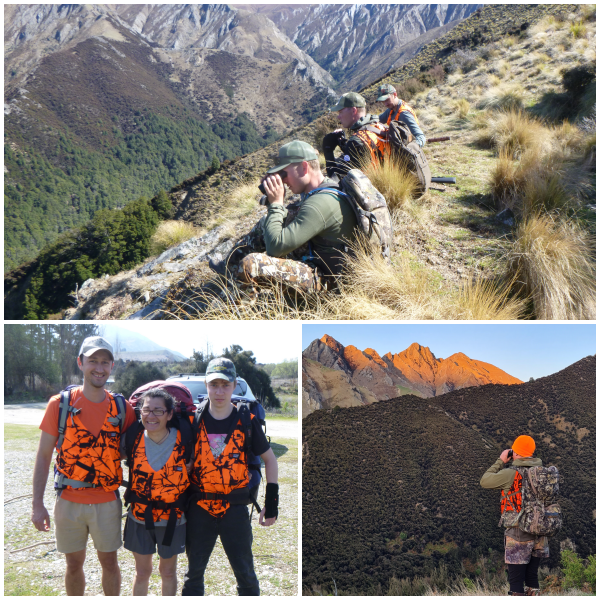 Expectation and a little fear. Will I be able to find, bring down and carry out an animal? I send up a silent prayer.
The mentors suggest a good night's sleep as we will be moving out around 0600. I head to bed and set the alarm for 0500 - a gentle glow above Hawea is the last thing I see as I zip up my tent flap.

0500: It's a chill morning. A few people are around the campfire already, the billy is on and people are having breakfast and rechecking that they are ready for the day.
By 0530 all hunters are up, and camp is bustling.

0600: Scott starts his truck, "We go in 10 mins" he says.
Too hyped to eat my porridge I throw it in a jar and put it in my bag for later, and find it rolling around in the back of the truck hours later...
When we arrive at the ewe block it's around 0640. Scott parks up and we all pull out the bino's.
There are plenty of potential animals up high from where we are. Those mountains look high! We'll have our work cut out for us, calculating the height of the climb, and imagining the weight of a potential carry.
Scott outlines the route we will take. He points out all the clearings where there could be animals grazing. He talks us through the scenario of the morning's grazing patterns and that the animals might search for shade in the hottest part of the day.
So…. best we try to get something soon.
We will head up for our first hunt where we see a nice clearing.

We walk quietly for about 3/4 of an hour, stopping for a moment here and there. When we get to the clearing, the couple of deer that we had spotted have disappeared.
"That's OK" says Scott, "there will be others".
We relax and watch the hills around and in just a few minutes Scott is pointing up the hill…. a young fallow deer at about 190m.

We sit and watch if for some time it but it appears relaxed and unaware of our presence.
"Does someone want to have a shot at it? Who's up?" he asks.
Veronica is keen and she lines up after a couple of 'dryfire' rehearsals.
Scott asks if she is has her sights on it.
When she answers yes all he says is "Send it!"

We all head up to retrieve the animal.
Veronica prepares her kill for the carry back down and leaves it in the shade of the hill.
One down and its only 0915.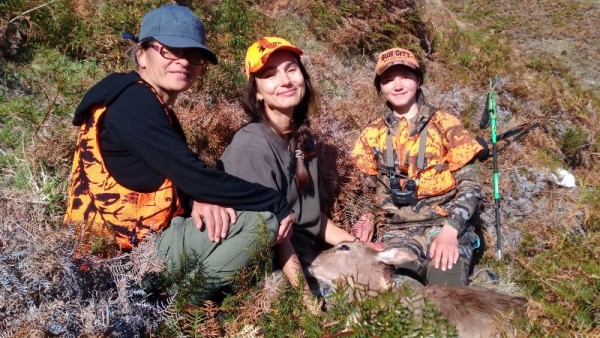 We stop for a morning tea snack. It's a very pleasant break in the sun until around 1000 Scott suggests we head off again.
He runs through some options, which include dropping another animal early and sneaking to town for coffee and ice cream!
We go for the extended option which allows for the potential of 3 or 4 opportunities to shoot an animal. I hope not to need so many.

We walk up to the brow of the hill and peek over but nothing in sight.
Next option 20 mins up and over towards another grassy clearing.
A group of fallow deer grazing quietly. We settle in. I look through the scope and panic. I can't seem to see anything. I move my head back and forth I still can't see anything.
The deer are alert and move off out of sight. I am disappointed
Scott reassures me there will be another opportunity.
As we pack up the rifle a group of red deer poke their heads over the hills above us and watch us for 30 secs before heading back in the direction they came from.

We decide to follow the fallow. 10 mins later we are peeking over the brow of another hill.
At around 200m there is a red hind sitting with a yearling.
We watch for a moment then decide to take a shot.
I get settled into a comfortable prone position, breathing smoothly. Good to go.

Then she stands up looks around and both her and the yearling move off.
What the …. something has spooked them.
Deflated we prepare to move on. I stand, just as Scott motions to stay. There's a group of fallow grazing just 70m away heading in our direction.
I get flustered again because it feels like I don't have time to set up for a shot. I'm annoyed at myself. "It's OK" says Scott, "to just enjoy watching them graze and move right past us without them knowing we are here".
I relax then, thankful for the reminder that however it happens, if it happens, it's all good.

I spot a cast antler and pick it up. I am happy now. I will have a reminder of the day even if I don't get something edible.

We are at the top of our block and ready to come back down towards the truck.
Scott decides to go for a quick look to see if there are any animals around the hill. There are 3 groups of animals spread out across the vista below us.
Scott decides just he and I will go while Nova and Veronica stay as a team high above and wait for a radio call -and spending a bit of time looking for cast antlers.

We drop downhill quickly through a gut to stay out of sight for 5 or so minutes, then sneak around an exposed shoulder. When we come upon 2 groups of fallow on the next ridge, they seem to be moving down the hill. Then we spot 2 fallow deer grazing on their own in a grassy hollow.
"This is it" says Scott. I look about but there is nowhere to perch without alerting them.
Scott uncovers the rifle, slowly slips into the bracken on the hillside in front of me placing the fore stock on his shoulder. I get my eye to the scope.
They haven't moved. I breathe out. This just might happen.
"Do it!" Scott whispers.

Yes! Relief as the hind drops on the spot to the ground.

Gun cleared and big hugs.

I begin to prepare my hind for the 500m carry to the gate. Higgie sure did make it seem much easier.
2.15pm Deer backpack on and off we go.
It's about 3.30 by the time we get to the lake.
We wash the blood off before we head back to camp, to discover we are the last back.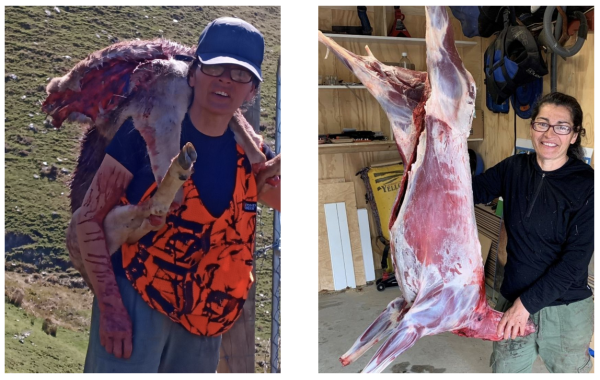 What an amazing day. The views were stunning, and the guiding was skilful.
Thanks Scott and Nova for a successful first hunt and for all of your patience and care.
Thanks to all the Upper Clutha HUNTS mentors for giving their time and energy, sharing their knowledge and their encouragement, and nurturing the next instalments of ethical hunters.

You are legends!