Otago Regional Council: Wallabies are causing serious damage to our environment.
28 September 2022
Wallabies are causing serious damage to our environment. They deplete forest understories and prevent native forest regeneration, compete with livestock for food, foul pasture, and damage agricultural crops and fences. If we don't get rid of this pest the economic cost could reach $84 million a year by 2025 in lost farm production, biodiversity and ecosystem services.
It's a national problem, and Otago Regional Council is part of Biosecurity New Zealand's (Ministry for Primary Industries) national wallaby eradication programme, working in partnership with other agencies to eliminate wallabies.
The good news is, with lower numbers here, Otago is better placed than other regions with this pest to achieve eradication, but success relies on the public reporting sightings.
Here's where hunters can really help.
Reporting any sightings or sign of wallabies, dead or alive, at www.reportwallabies.nz, will help identify areas where wallabies are present and enable immediate follow-up control to stop them spreading.
When you see one wallaby, there are often more.
ORC's Project Delivery Specialist - National Programmes Gavin Udy says, "During spring, wallaby may be seen while hunting, coming out to feed on new grass and shrub growth. Hunters can help protect our great outdoors and stop the spread of wallabies in Otago by reporting any sightings or sign of wallabies."
Bennett's wallaby
In the South Island we have the Bennett's wallaby, which can be found throughout South Canterbury and in parts of Otago. The Bennett's wallaby is the largest species of wallaby, standing up to 800 mm tall, with a tail of slightly shorter length. Adults can weigh from 15 kg to 25kg. Bennett's wallaby is primarily a grazer, feeding on a wide variety of indigenous and exotic grasses and herbs, but it also browses palatable shrub and tree species.
In Otago, wallaby are most commonly sighted in North Otago, the Maniototo, Hawkdun Range, Hawea, and Lindis areas. ORC contracts pest control specialists who use a mix of tried-and-true boots-on-ground and newer, high-tech methods. Ground surveillance teams look for wallaby scat and sign, and actual wallabies, using hunters and indicator dogs during the daytime.
At night, drones equipped with thermal imaging cameras are used to track animals down, working alongside a hunter on the ground. During the winter months, helicopters with thermal camera operators are used in early morning and late afternoon to search areas where sign has been detected, and in areas which are remote or inaccessible.
ORC's contractors are often searching for one wallaby across several hundred hectares of dense bush, scrub or tussock grassland.
Wallabies live in some very hard to access areas - hunters will know that the Otago terrain can make wallaby eradication challenging. Your reports will help to control wallabies, stop their spread and achieve eradication. If you see a wallaby, report it.
Report sightings to www.reportwallabies.nz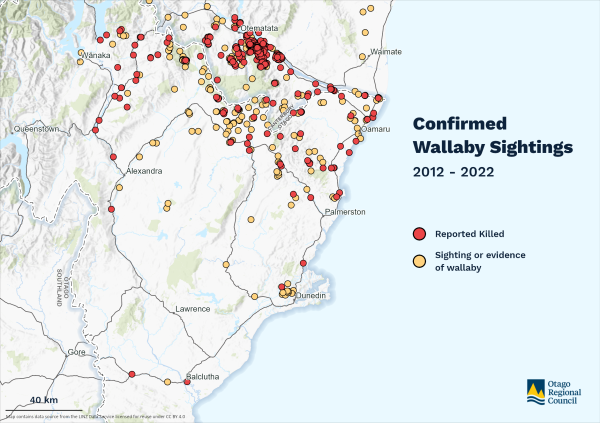 Join NZDA To Help Us Advocate on Your Behalf