Big Bulls From The Tahr Ballot
11 January 2023

Hunting and Wildlife Magazine - Issue 217 Winter
Words By: Simon Buschl
The line-up says it all, double cab Utes along the curb followed by our group, among others, at the doors to Café Neve. Its very evident why we were all here and clearly not locals, the camouflage and brand labels being quite the giveaway.
This was the beginning of the West Coast Tahr Rut. The obligatory stop for some high energy breakfast and morning coffee before the final line up at Karangarua ready for the Heli flight into our designated landing site.
The Tahr Ballot system for designated landing sites into Tahr country is a prime example of hunters gaining access into public land Wilderness Areas for the sole purpose of reducing and managing the Tahr population. An increase in ballot popularity is a massive step forward for us as hunters to be able to get behind the conservation of public land. We should all take pride in this, value it and never take it for granted.
The car park is well full when we arrive, several parties have already been dropped off with many more lining up. After scrambling for 10 minutes lightening our excessively optimistic and luxurious load of equipment to get down to the helicopter's weight capacity the three of us are loaded in with James Scott and away, heading due south. This was to be Chris Webber's third trip into this block and the first for Hamish and I. Guide Webber was on the case.
Silence ruled as we stood and admired our surrounding for quite a while after landing. Establishing a decent tent site, we slowly got our affairs in order and headed up and over to the main Tahr face to spend the evening.

Post cull we weren't too sure what to expect but got into position for the evening on a nice vantage point overlooking the scrub belt. Movement began below on that magic hour as nannies began to feed, closely followed by one or two bulls. The spotting scope was on a constant swivel assessing what we were spotting and trying to keep a record of what was where.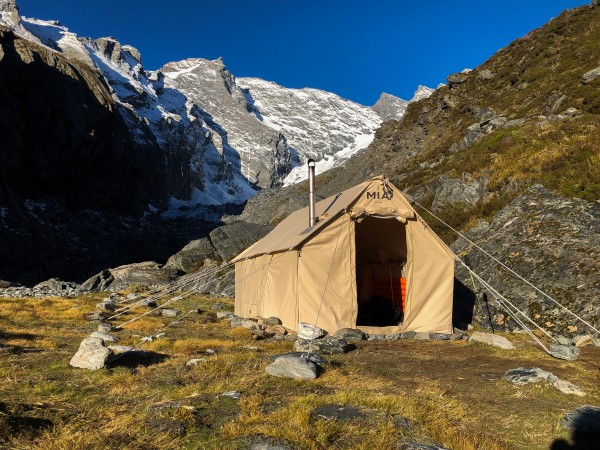 An MIA tent fitted with a stove and room for camp stretchers takes comfort to another level, especially in bad weather.
Up to 40 Tahr were counted with some moving up toward our position. We spooked a nanny, followed shortly by the hillside sounding almost musical with whistling. Below us we caught sight of a fleeing bull with significant size and age about him. He chased those nannies down and out of sight into the scrub. We didn't lay eyes on him again. Several other bulls were spotted showing great promise with many pushing over 13" and in that 6–7-year category. Having all shot Tahr in the past we chose to be quite fussy on this hunt. Shadows crept up the hillside fast, so we headed towards camp using head torches for the last hour.
Huddled into the MIA Westlander II tent with the stove cranking and rocks for seats brings a new level of gentleman's Tahr hunting. Hamish slapped a home prepped stew on the stove while some classic clear night sky photos were taken of camp. Appreciation of the moment is well worth capturing!
Out of the cosy sleeping bag next morning, feet into boots, icy tent flap aside, each and every footstep crunched as I made my way to the creek and boulder hoped across, finding a nice, elevated glassing location not too far from the smell of coffee and the MIA stove. Covering as much country as I could and picking up a few Tahr and some Chamois. They were all down valley and up another catchment or up high in the bluffs above 2000m. Once the sun had cleared Mt Strachan, we all met back at the stove.
Yarns were spun, options pondered, coffee drunk and observations shared. Finally, decisions were made. We would leave the MIA for a fly camp around in the next catchment, to try and explore the less travelled areas. We pushed down through heavy scrub. Hamish and Chris tried one side of the creek while I tried the other. Neither path provided an easy route. Pushing was the only option. We got to our low point both physically and emotionally before climbing back up a much nicer creek (rock elevator) towards the Chamois' location. They must have dropped down into the scrub. No further sign of them was seen that day. Above the scrub belt we sidled, passing below a sheltered gut with a dozen Tahr feeding 4-500m above. There were a few juvenile bulls amongst the females. We continued towards our pre-determined tenting location only to be halted in our tracks by a mature bull, sky lined and looking in our direction. Rummaging around we got the spotter set up and assessed him. He dropped off the skyline and began his sidle above us, heading towards the nannies and juveniles. As he wandered round above us, we clearly got a good look at his trophy quality and his standout feature of long first and second year growth. The tips curled right around and into his mane. A definite shooter. Because I hadn't shot a Tahr over 13" at this stage it was my shot. Chris kindly gave me his firearm (mine was left behind to lighten our helicopter load). We stalked up a small spur leading straight to him as he was sidling. At a range of 280m, I settled in behind the Mountain Ascent .280 AI. Placing the cross hairs neatly onto the shoulder I put him down cleanly. A small nosedive over a boulder chipped his ridging but nothing was going to bring me down after getting this ripper 14 ⅛", 9-year-old bull. The horn shape alone is unique compared to most other Tahr I have seen. After a good photo session and quick caping out we moved on to pitch the tent. It was already getting quite dull and unfortunately, we passed by what must have been a conference meeting of bulls over a nanny. In the fading light there appeared to be eight mature looking bulls huddled tight around one or two nannies. It was too dark to properly assess the animals, so we dropped down to pitch somewhere flat and find water.
Searching for water by torch light proved more difficult on this terrace than anticipated, but after startling a deer Hamish returned with the goods. We all squeezed into a two-man tent for the night, getting up early to stretch the body back out.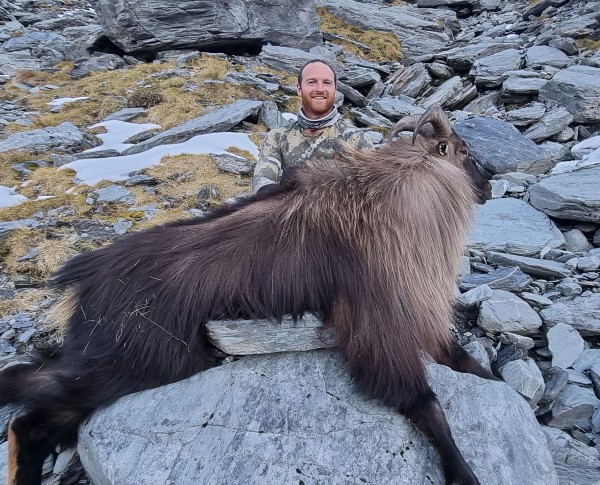 The author with his 14 ⅛ bull taken at 280 metres using a Mountain Ascent .280 AI.
After a morning of glassing and no further sign of any trophy class mature bulls, we packed up. We bumped into a young Chamois buck as we headed back towards the MIA. Keeping our elevation and sidling above scrub height the going was slightly nicer minus one section of pushing and throwing our bodies at the scrub and then bum sliding under it. Climbing up out of a gut onto the final spur before the decent down to camp we picked up a mature bull which appeared to have good mass and length. He was bedded down in a high bluff system. We moved into a position and watched and waited as the evening wore on. He stood and began to feed around the face 510 metres out. Hamish set up with his Hells Canyon, 7mm Rem Mag and sent a pill into his engine room. Being a tough old bull, Hamish followed through with another shot to stop him going any further off the bluffs.
Back at camp by 10pm to discover the local gang of parrots had pecked and torn at the MIA leaving quite a few holes, thankfully mainly in the rain skirt. These pesky buggers are always pushing their limits but add so much value to the wilderness environment. A decent feed, hours of yarns and a flask of whisky was the perfect wind down to an epic few days.
The following morning was a recovery mission with Hamish to get his bull. We spent much of that day getting round and recovering him in a steep chute. Another beauty bull of 9 years and 13 ⅞".
Crossing through a large glacial moraine wall you could hear the distinctive high-pitched chirp of the Rock Wren or Tuke, followed by spotting multiple of the little critters bobbing up and down in the rocks. To quick and shy for my camera this time. Back at camp we had a relaxing evening before the pickup in the morning.
A perfect weather window in the South Westland Wilderness Area chasing an incredible mountain animal.
It was quite good to note that the Tahr numbers over the 5 days were around 150 (we were vigilant in not double counting) with a stable 50:50 ratio. They also tend to be very localised. Dense, in certain areas and almost absent in others. While we didn't end up shooting any nannies on this trip it would be recommended to shoot a few meat animals for every bull to keep their impact on the environment down.
12 Chamois and four deer were also spotted giving the possibility of a mixed bag for hunting purposes. Filling in the hunter returns is a small but vital part in this ballot process and can truly help in the future of conservation for our environment and the animals that live in it.
Hamish took a ripper of a bull aged at 9 years and measuring 13 ⅞".
Write for Hunting and Wildlife

Join NZDA To Help Us Advocate on Your Behalf