The New Zealand Tahr Foundation Duke of Bedford Award
30 August 2022
The New Zealand Tahr Foundation Duke of Bedford award is named in honour of the then Duke Herbrand Arthur Russell who in 1904 graciously hand selected and presented the original tahr to New Zealand from his herd at Woburn Abby, Bedfordshire in England.

The award is open to bulls 8+ years of age and aims to encourage hunters to pursue and harvest bull tahr in a way that supports a sustainable and improving tahr trophy resource.

"We had intended to run this competition for the first time in 2020 but due to the Covid lock downs and resulting Sika Show cancelations we were unable to. To make up for lost time, this year the competition is open to trophies taken within the past three years, a separate trophy will be awarded for each year."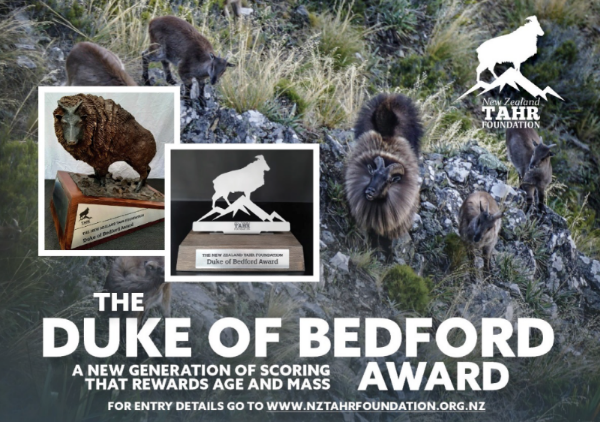 The trophy itself was commissioned by the Foundation and sculptured by Murray Matuschka in the same style as the Tahr statue at Lake Pukaki, also the work of Murray Matuschka. The bronze trophy will be on display at the Sika show and in the NZDA club rooms on the 17th of September, winners will receive a smaller trophy featuring the Tahr Foundation logo that they can keep. All entries which meet the 8 years of age requirement will receive a certificate of acknowledgement.

This award has been established to honour the past and to support the future of our valuable tahr resource.

Our primary objective has always been to have tahr managed under a game animal management regime, a Herd of Special Interest. Such a management regime would aim to produce the type of bull we all aspire to see in our mountains, and this is the type of bull that will be rewarded under our new competition rules.

With our currently reduced nanny population, there are progressively less and less mature bulls to go around. To allow young bulls to reach maturity and their trophy potential, the Foundation is asking hunters to shift from a quantity to quality harvest. To encourage this shift, we developed this new competition to celebrate the harvest of older bulls, where tahr horns are scored for horn mass rather than just length of horn. The development of horn mass comes with age and an abundance of forage from a healthy environment.

Horns are measured for length and girth at base, the length is then divided by 4 and girth is measured at each quarter, the total is the sum of all measurements. Bulls with broken or broomed tips are not disadvantaged, a shorter tip will push the measurement at the quarters back into the thicker part of the horn, a bull of age will regain score by having a greater mass.

The tahr is a world class alpine game animal, we are both privileged and fortunate to have them and be able to hunt them here today over 100 years since they were introduced. We encourage hunters to respect both the tahr resource and the freedom we enjoy being able to hunt them.

If we can all become more selective in our harvest decisions, in the future we will all have more mature bulls to select from.
How to enter

The Tahr Foundation encourages anyone who has taken an old bull trophy in over the last 3 years to come along and enter your trophy. Entry fees are $30 per trophy and all proceeds go to the New Zealand Tahr Foundation. Winners announced at the completion of judging on the Sunday at the Sika Show.
Entry details for those attending the Sika Show are on their website

Or

Entry for those not attending the Sika Show is at North Canterbury NZDA club rooms, Saturday morning on the 17th of September.

599 McLeans Island Road,
McLeans Island,
Christchurch 8051

If you are intending to turn up, a heads up to the team would be appreciated. Alternatively, if you can't attend and but wish to enter, there are several locations across the South Island where trophies can be dropped in advance.
Please email admin@nztf.org.nz with your name, number of entries and attendance or region for drop off.