DOC Delivers Apology, Consults NZDA and GAC, Amends Report and Opens Forum Up To The Public
8 December 2021
NZDA Has Pushed For A Step In The Right Direction
We have an update for you,
NZDA has met with the Department of Conservation to discuss the misleading paper mentioned in our previous statement. The Game Animal Council also attended the meeting. Our concerns have been voiced and our perspective has been heard.
NZDA explained why we have concerns and it gave DOC the chance to work with the GAC to revise the paper.
DOC has given us a statement they would like us to share with our members and all hunters.
The Department of Conservation's Statement Of Response: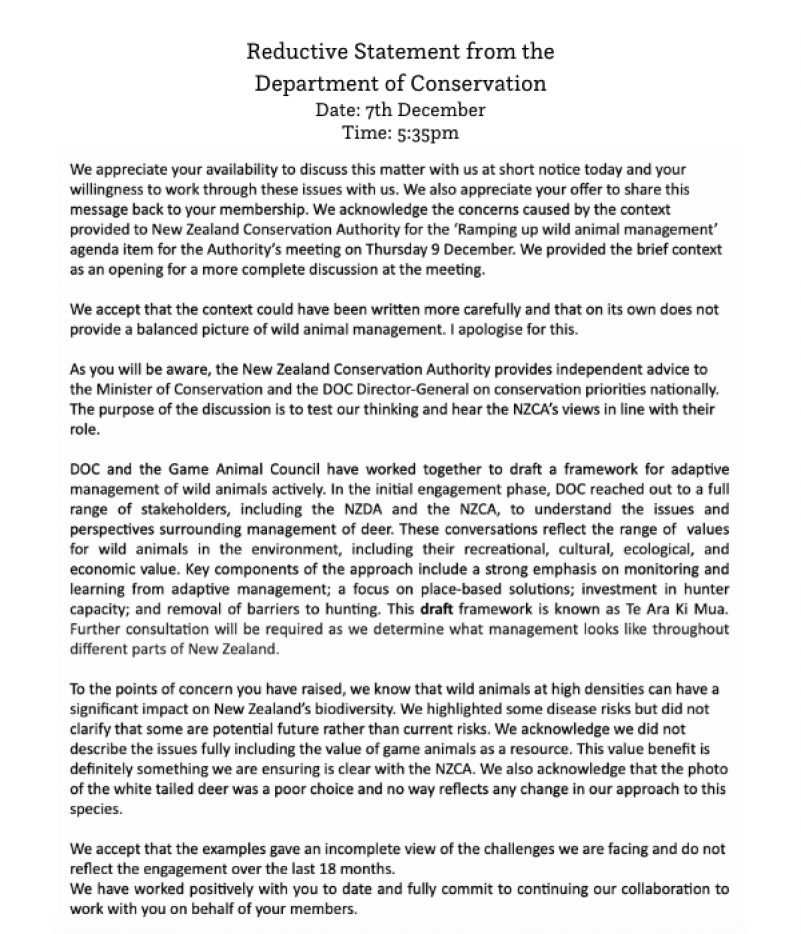 What Outcomes Have NZDA Achieved?
Following up from the Department's statement, DOC has confirmed that they will correct and update the Conservation Authority Public Papers - we'll be on the lookout and share this with you. This will be amended and the public record corrected.
The meeting being on the 9th and 10th that contains the agenda item of concern, will now be held in a public forum.
NZDA has intervened at the right time and moment, ensuring that any misinformation and unjust statements are highlighted from the pit rather than mid-race.
It's a big success that NZDA's balanced view on conservation and game animal management are being acknowledged within the Department of Conservation.
DOC has admitted its delivery of information was amiss. They've acknowledged that their poor choice of words and imagery was misleading.
We have brought attention to the biodiversity strategy where our game animals are listed as valued.
We have highlighted the importance and role of the Game Animal Council.
DOC currently has no intentions to irradicate our deer.
However, we will continue to press for consultation with NZDA, Treaty partners, whānau, hapū, iwi, Māori organisations, hunters, and other stakeholders. Read the biodiversity strategy here.
Where To From Here?
NZDA will be watching this issue closely and advocating hard but fair for hunters.
We will continue to push for open and transparent conversation.
Our CEO Gwyn Thurlow will be attending the meeting tomorrow and will follow up with our members later in the week. We will inform you of the substance of the meeting.
NZDA will continue to hold our government and its departments to account.
By having paid staff at NZDA we are able to keep watch for any concerning matters arising, we make sure these are raised with DOC, our Ministers and Political Parties, and the hunting public.
With the human resources and expertise we have in place, NZDA is able to stay ahead of the game.
Hunters need to continue to raise their voices, share your concerns and be involved in local issues. We have a variety of communities within the hunting scene, each playing an important role in the big picture.
Hunters need to be consulted from not only a National level, but a local level, within your community.
Those who get out there and feed families! We encourage you to get involved.
Thanks to our members and the wider hunting community. You've made a difference in 24 hours.
Every post shared, every opinion heard makes the difference.
Encourage your friends to join up.
This is the power of the collective!
NZDA stands for tradition, ethics, advocacy and education.
If you're not a member yet, please follow the link to sign up: here
https://www.deerstalkers.org.nz/join-and-support-us/branch-finder/
Gwyn Thurlow, NZDA CEO, is working hard for hunters and watching this issue closely.