2021 National Sporting Rifle Shoot, 27th & 28th Feb, Tokoroa
OPEN FOR REGISTRATION (NZDA members and general public welcome)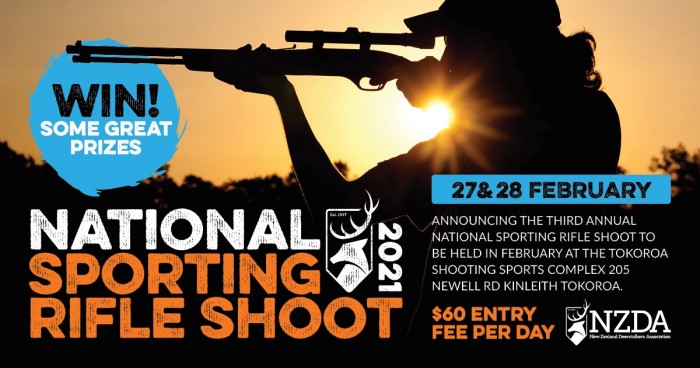 Follow our NSRS Facebook page for news and information: https://www.facebook.com/NZDANSRS/
Q: What do you need to compete in the NSRS? Use your scoped hunting rifle and .22. Smaller to mid-size calibers are more comfortable to shoot but the larger calibers have an advantage in that the shot is scored to the hole seen in the paper so a larger caliber will touch the line and score in where as a small caliber may not touch the line and score out. A scope with a parallax adjustment will be helpful for accuracy but you will probably shoot best with what you are used to using but with experience you may wish to upgrade your optics, trigger etc. and the rules allow for this and any such improvements made can only help your hunting. For the rimfire shoot, any good accurate .22 will do the job.
Registration Contact:
Paul Carmine
A Bit of History
The National Sporting Rifle Shoot was first held in 2019 at the Tokoroa shooting sports complex. The event was well attended and is growing strong. Medals are awarded to the top 3 placings in rimfire and centrefire also prizes are drawn from a hat and everyone gets one for each event and running boar is held as an optional event at the end of both days. The centrefire shoot is most suitable for hunting rifles although it is open to any sporting type rifle but these offer no advantage due to the rapid fire and snap components of the shoot also the inability to use slings/jackets/rests/bipods. Distances shot are 100 and 200 meters for centerfire and for rimfire, 50 and 100 meters, each using NZDA targets. The whole event is shot in one detail which takes about 20 minutes.
Download full details and competition rules below: